{"autoPlay":true,"speed":4,"aspectRatio":"21:9","maxHeight":"550px","minHeight":"","controls":{"arrows":true,"dots":true},"backgroundType":"video","backgroundTagLineEnabled":true,"backgroundVideo":"https:\/\/www.americanadventure.com\/wp-content\/uploads\/2016\/05\/homepage-1.mp4","backgroundVideoPoster":"https:\/\/www.americanadventure.com\/wp-content\/uploads\/2016\/04\/Static-Image-1.jpg","slides":[{"type":"buttons","mediaType":"image","image":"https:\/\/www.americanadventure.com\/wp-content\/uploads\/2016\/04\/moderate-3.jpg","buttons":[{"text":"REQUEST A BROCHURE","link":"\/request-a-brochure\/","blue":true},{"text":"FIND MY ADVENTURE","link":"\/trip-finder\/","blue":false}]},{"type":"buttons","mediaType":"image","image":"https:\/\/www.americanadventure.com\/wp-content\/uploads\/2016\/04\/royal-gorge-1.jpg","buttons":[{"text":"TAKE A 360\u00b0 TOUR","link":"\/virtual-tour\/","blue":true},{"text":"CHECK OUT OUR VIDEOS","link":"\/media\/","blue":false}]},{"type":"buttons","mediaType":"image","image":"https:\/\/www.americanadventure.com\/wp-content\/uploads\/2016\/04\/mild-2.jpg","buttons":[{"text":"REQUEST A BROCHURE","link":"\/request-a-brochure\/","blue":true},{"text":"FIND MY ADVENTURE","link":"\/trip-finder\/","blue":false}]},{"type":"buttons","mediaType":"image","image":"https:\/\/www.americanadventure.com\/wp-content\/uploads\/2016\/04\/royal_gorge-6.jpg","buttons":[{"text":"TAKE A 360\u00b0 TOUR","link":"\/virtual-tour\/","blue":true},{"text":"CHECK OUT OUR VIDEOS","link":"\/media\/","blue":false}]}]}
Bachelor & Bachelorette Rafting Trips
For the ultimate Bachelor or Bachelorette Party experience look no further than a Colorado rafting adventure with American Adventure Expeditions!  Nowadays people want their entire wedding experience, including their bachelor and bachelorette parties to be one-of-a-kind.  They're looking for something unique, memorable, and fun, a rafting adventure is all that and then some!  

Mild to Wild Rafting options available!
Two premier riverside rafting outposts in Cañon City and Buena Vista.
Highly-trained, professional staff ready to get you on the water!
Challenge the rapids of the mighty Royal Gorge with your best friends or enjoy the fun whitewater and breath-taking scenery of Browns Canyon.  Whichever trip you decide on, everyone will be talking about the adventure long after the wedding has come and gone!
6 Years Old (Trip Dependent)
Class I-V (Trip Dependent)
The Royal Gorge
Multiple Departure Times Daily
Trips Range From 3 Hours to Multi-Day
End your single days with a bang as you raft through one of the country's best stretches of whitewater!  You'll be in awe of the scenery, the rapids, and the camaraderie that you feel as you and your best friends conquer this adventure together!

*This trip departs from our Cañon City Rafting Outpost and the minimum age is 14 years old.
Royal Gorge Overnight
Departs: 1:00 pm on Tuesday & Saturday
3 Gourmet Meals + 1 Snack INcluded
What better way to end your single days than by enjoying one of Colorado's most epic Adventures!  Over 25 miles of world-class whitewater, including the thrilling rapids of the Royal Gorge, camping under countless Colorado stars, and enjoying delicious gourmet meals prepared by the rivers most talented guides!
*This trip departs from our Royal Gorge Outpost and the minimum age is 14 years old.
The Numbers
Multiple Departure Times Daily
Trips Range From 2.5 to 5.5 Hours
If you're looking for one last hard core adventure before you tie the knot, then look no further!  Experience excitement, nervousness, and elation as you raft through this amazing stretch!  Sounds a lot like marriage!
*This trips departs from our Buena Vista Rafting Outpost and the minimum age is 16 years old.
Bighorn Sheep Canyon
Multiple Departure Times Daily
Trips Range From 3 to 6 Hours
This trip is a Colorado classic!  Mixing wildlife and adventure into one memorable day is a great way to celebrate your upcoming nuptials!
*This trip departs form our Royal Gorge Rafting Outpost and the minimum age is 6 years old.


Group Discounts
Groups of 10 – 14: 10% Off + Complimentary Wetsuit Package
Groups of 15 – 19: 15% Off + Complimentary Wetsuit Package
Groups of 20+: 20% Off + Complimentary Wetsuit Package
*Our Complimentary Wetsuit Package includes a wetsuit, river shoes, and splash jacket for everyone in the group.  This package typically rents for $12/person.

RECOMMENDED ADD-ONS OR PACKAGES
Looking for a little more for your bachelor or bachelorette party?  Why not try our Royal Gorge Overnight Rafting Adventure.  This trip includes two days of world-class rafting, one night of camping under the Colorado Stars, three gourmet riverside meals, and all the first-class camping equipment you'll need.  Throw in our super entertaining and multi-talented raft guides, and you have a trip to remember!

At American Adventure Expeditions, we love a good challenge!  So if you have an idea for a group outing and you want to do something a little different than our normal rafting, mountain, or package adventures, let us know, and we'll do whatever we can to accommodate!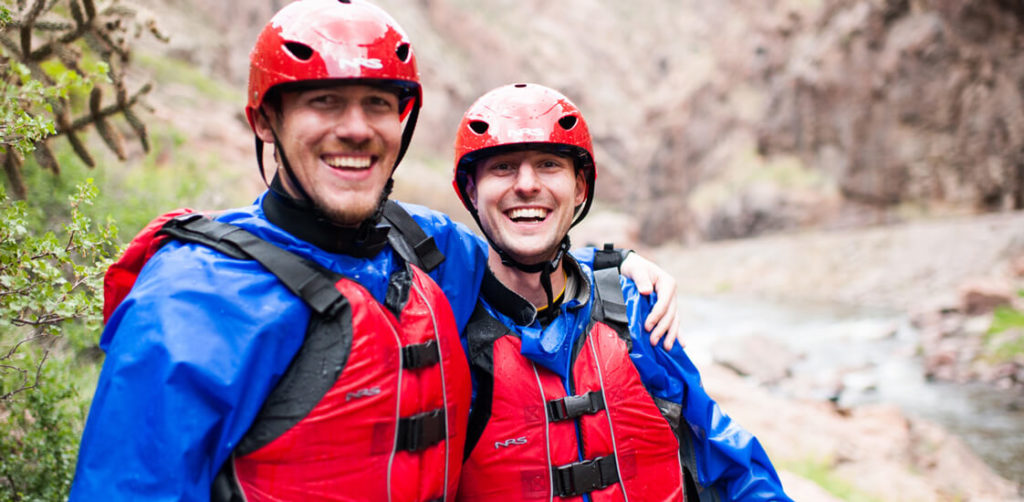 Preparing for the Trip
What To Wear & Bring
The key to enjoying a Bachelor or Bachelorette Rafting Adventure to the fullest is being properly prepared and dressed.  Here's a list of things that we recommend to wear and bring:
Swimsuit

Quick-Drying Clothes (no cotton, no denim)

Sun Hat

Sunglasses

Sunscreen

Dry Clothes & Towel for after your trip

Water Shoes (No Flip Flops, Crocs or Bare-feet!)

Money for items such as:

Rental Gear

Photos

Souvenirs

Guide Gratuity
Optional Rental Gear
Although most summer days include plenty of sunshine, you have to remember that this water is coming straight off the Rocky Mountains and can sometimes be a bit chilly. No need to worry as we have all of the gear that you could possibly want or need to make sure that you're as comfortable as possible.
If you're not sure what you'll need, don't worry. Come in the day of your trip and our friendly staff will give you an honest recommendation based upon water levels, air temperature, and weather forecasts. We have a 100% satisfaction guarantee so making sure you're comfortable is our top priority.
Wetsuit –– Stretchy 2mm neoprene keeps your core warm without unnecessary bulk
Splash Jacket -– Urethane coated nylon jacket with neoprene neck and wrist gaskets to help with the splash
River Shoes –– Neoprene boots that keep your feet warm, comfortable, and well-protected
1 Rental Item = $5.00, 2 Rental Items = $10.00, Complete Rental Package = $12.00
** All of these items are complimentary for groups of 10+