Back to Blog & News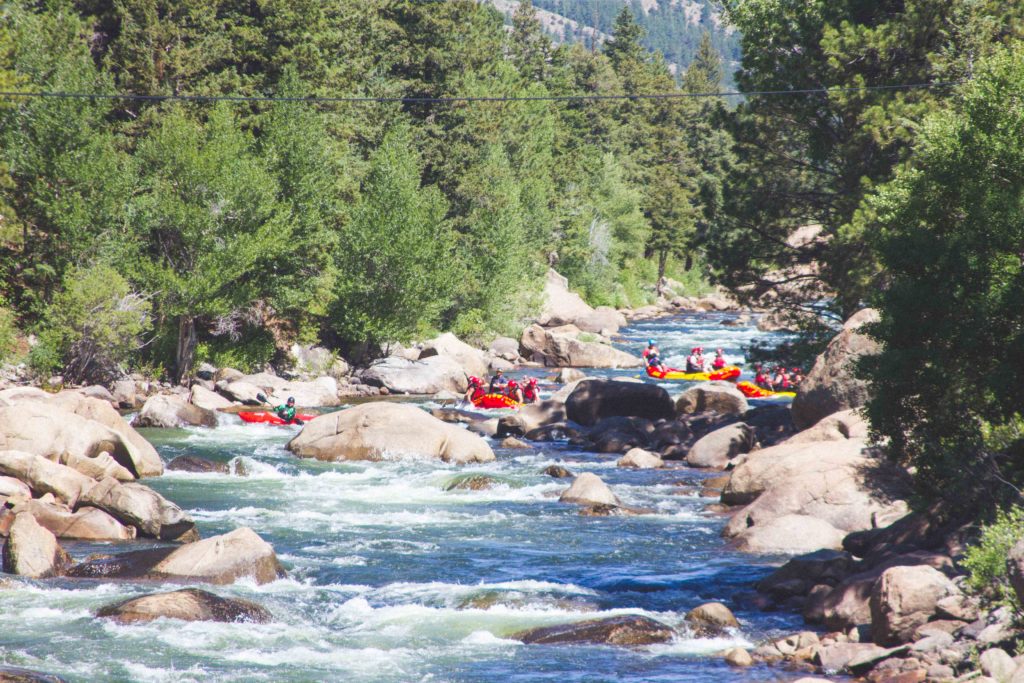 Colorado Rafting – A Beginner's Guide to Colorado Whitewater Rafting
American Adventure Expeditions

February 8, 2011

Blog, Colorado Rafting Articles
One of the biggest misconceptions about whitewater rafting in Colorado is that it's only for people looking for an extreme adventure. This couldn't be further from the truth! Colorado has plenty of stretches of river that are perfect for the beginner, or those who are looking for a little bit of whitewater. Read on for a few tips for first-time whitewater rafters that will help make your trip more comfortable…and will also ensure that this will be your first whitewater rafting trip of many!
Wear the appropriate clothing
One of the best ways to ensure that your first rafting experience is as enjoyable as possible is to wear the appropriate clothing and gear. When rafting in Colorado, it's always recommended to avoid cotton. When cotton gets wet it typically stays wet and results in a much chillier experience. Instead of cotton we recommend wearing quick drying materials such as Capilene™, Under Armor™, or neoprene. If you don't have any of these, don't worry…we have an abundant supply of wetsuits, river shoes, and splash jackets for rent. All rafting adventures include all of the safety equipment that you will need for your trip. We provide all of our guests with top-of-the-line gear including a Type V coast guard approved PFD (Personal Flotation Device) as well as a functional (and stylish!) helmet.
Pick the right trip
When choosing a Colorado whitewater rafting trip, be realistic about everyone's abilities and be sure to ask questions of our staff prior to booking. All of our reservationists can help you determine the appropriate trip for you and your group if you are unsure. Anyone in your group that has any medical conditions, physical limitations, or is seriously overweight should consult a physician before attempting a raft trip. Taking the time to select the appropriate trip will make the experience that much more enjoyable for everyone.
Go with a professional
As a licensed outfitter in the State of Colorado, American Adventure Expeditions meets and exceeds the state's requirements for professional outfitting. It is essential to raft with a licensed professional to ensure that you receive the proper pre-trip training and that you're properly fitted with appropriate safety gear like your helmet and lifejacket.
Listen to your guide
Although this seems like a simple tip, it's one of the most important! Before even getting near a boat, you will sit through a complete safety orientation about the river and what to expect on your trip with a rafting guide. You'll learn how to stay in the boat, what to do if you fall out, how to help someone else back into the raft and many more pointers! It is imperative that you pay attention during this orientation so you'll know what to expect and can act appropriately. Also, once you get to the water, your guide will teach you how to paddle as a group and will review his or her commands with you. These are the instructions you will receive while navigating the rapids together so it's very important to listen carefully and do everything they say anytime you're on their boat.
Each year, the Arkansas River hosts thousands of guests on their very first whitewater experience. Typically, guests that do some research before their trip have the best time. If you pick the right trip offered by a professional outfitter, wear appropriate clothing, and listen to your guide, you're setting yourself up for an amazing adventure! Remember, Colorado rafting trips are not just for thrill-seekers. Just come prepared and you'll have the time of your lifejackets!
Share:
Next Post