Back to Blog & News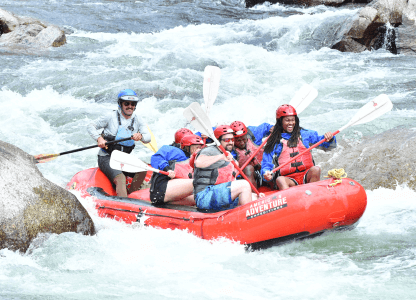 Take Your Colorado Rafting Photos With You!
American Adventure Expeditions

June 5, 2013

Blog, Cool Clients
I think today was a really great day here at American Adventure Expeditions. We had a large group come in to partake in a  Browns Canyon rafting trip this afternoon, some nervous, some excited, some completely unsure of how they felt about the situation. I always look forward to seeing people off on their trips, because they always come back with a different expression on their face than before they left. Then, when they get back, the first thing they do -sometimes before they even change out of their freezing damp clothing-is their photos. This afternoon, I set up the TV screens with the Colorado rafting photos from this particular trip, and I was blown away by all the smiles on these people's faces.  I mean, I always said, "The best whitewater photos are those where you can't see the boat or anyone in the boat." However, I had a bit of a change of heart today. So rarely can you catch people nearly grinning their faces off in their whitewater photos. I don't know if I myself have ever looked graceful in a whitewater photo, for I am always cringing from being hit by water or working to paddle as hard as I can through the rapid(not that I am not enjoying myself thoroughly, I always do), or just laughing hysterically from pure ecstasy.
I love to see people make the decision to take their photos home with them after a  Colorado whitewater rafting trip, because this is truly is an experience of a lifetime for them. For someone like me, who has been rafting and guiding since I was a kid, it is easy to forget how special it really is. People who have never been rafting, or even seen Colorado in their lives are coming here for an experience they will never forget, and that is always what ends up happening. Of course they will always shave the memories, but I feel as though the photo is the single best solid evidence (even more so than a T-shirt) of a great experience from a rafting trip.  I only wish I had saved Colorado rafting photos from my favorite trips along the way!
-Coco Martin
Share:
Next Post