Back to Blog & News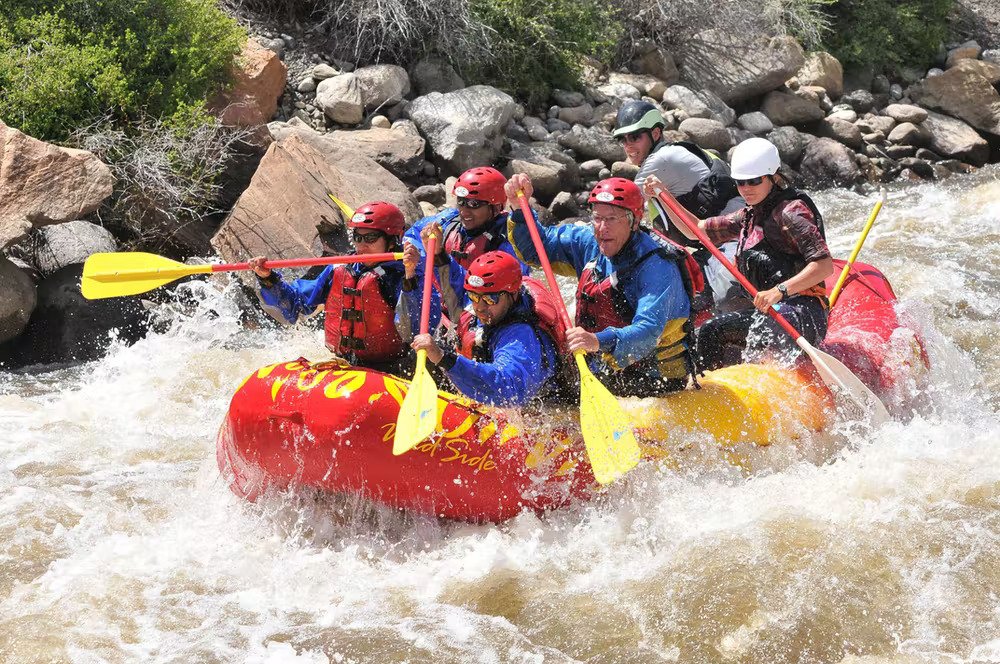 The Rumors Are True: The Numbers Are A Colorado Must Do
American Adventure Expeditions

August 4, 2016

Blog
The Numbers, a stretch of epic whitewater just north of our Buena Vista Outpost, is some of the raddest and most incredible whitewater in North America!
The Numbers is an 8-mile Class IV/V (advanced) section on the Arkansas River located 10 miles north of Buena Vista, Colorado, and is widely considered to be one of the most difficult sections of commercially rafted river in Colorado.  This narrow section of whitewater winds its way through a beautiful high alpine environment, though you'll probably be too busy paddling to notice.
The Numbers can typically be rafted from mid-May to mid-August due to water levels, with the best rafting coming in June and more sporty lines in August. Thrill seekers beware though…The Numbers is a physically demanding paddling adventure, with all guests' efforts needed to work as a team to conquer the mighty rapids and technical lines.
The Numbers Rafting Trips
While The Numbers doesn't have any intimidating names for its rapids (i.e. Widowmaker, Sledgehammer, etc.), don't be lulled into a false sense of security while on this rafting trip.  You might not be threatened by a rapid called "Number 4" at first, but you'll be sure to remember each white-knuckled moment after catching your breath at the takeout.  Be sure to keep your wits about you while on The Numbers rafting trip! The Numbers gets its name because the rapids are so close together, the boat's captain doesn't have time to remember each name but you'd better believe they are keeping track in their heads of which number they are on!
The Numbers Whitewater Rafting
Previous experience is not necessary to raft The Numbers, though it is highly recommended.  For first-time rafters who have a hefty sense of adventure, The Numbers Full Day is a great way to experience some of the best whitewater rafting in Colorado.  This Full Day trip incorporates Browns Canyon (Class II/III) as a great morning warm-up before grabbing a bite to eat and attacking The Numbers in the afternoon.
How To Prepare for The Numbers Rafting
The best way to prepare for a trip down The Numbers is get a good night's sleep and bring your sense of adventure!  Wetsuits and some form of insulated outerwear/footwear are recommended while rafting this section as The Numbers is very close to the headwaters of the Arkansas River, and water temperatures can be cooler than down river. Not to worry though, you'll have enough adrenaline pumping through your body you won't notice the cold splashes too much!
For the experienced rafter, there truly is nothing else like a trip down The Numbers.  With its tight channels, steep drops, and continuous action, The Numbers is a non-stop adrenaline ride not to be missed. So, bring some friends, your sense of adventure, and a change of clothes (believe us, you'll need them!) and head up to The Numbers before August 15th to experience some high alpine whitewater rafting!
For more information, to answer any questions and to get your river adventure booked, call us at 719.395.2409 or drop us a line at [email protected] – we look forward to talking you about your next Colorado adventure!
Share:
Next Post