Back to Blog & News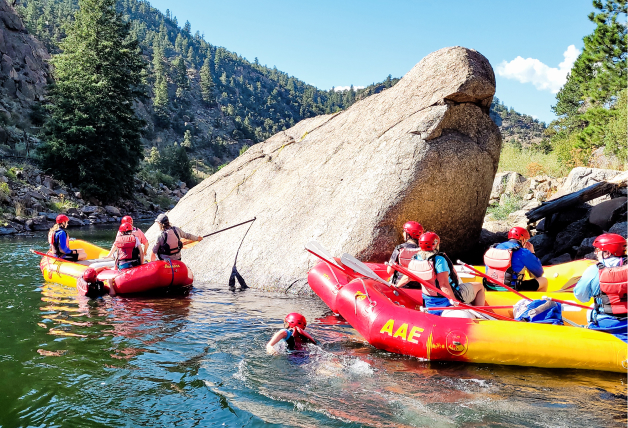 The Beginner's Guide to White Water Rafting
American Adventure Expeditions

May 24, 2017

River Comfort and Safety
You can read all the descriptions and reviews you want, but you'll never truly experience the full thrill of white water rafting until you do it yourself. Before you take the plunge, start by arming yourself with some handy tips from our white water rafting for beginners guide.
Pick Your Trip
Before you grab your gear and head for the rapids, you want to make sure you choose a trip that suits your taste and abilities. You'll need to select the location and duration of your adventure, along with the level of rapids you want to ride.
Rapid classifications range from Class I to Class VI, with Classes I and II most suitable for white water rafting beginners. Class I is the calmest, with no significant obstacles or waves. Class II gives you rapids with regular waves, along with wide channels and clear passages.
You'll also get to pick between taking a paddle boat, where everyone paddles, or an oar boat, where the guide does all the work. Either one works for white water rafting for beginners, with your choice largely dependent on the amount of work you want to do.
Prep Accordingly
Once your trip details are set, it's time to take care of the preparation details.
What to Wear:
Swimsuit with a pair of quick-drying shorts
Waterproof sunscreen, paying extra attention to the tops of your thighs and neck area
Sunglasses with strap to secure to your head
Shoes that stay securely on your feet and you don't mind getting wet, such as water shoes, sandals with secure straps, or sneakers
What to Bring:
Extra layers of quick-drying, non-cotton clothing for cooler weather (cotton will keep you cold and wet)
Towel and change of clothes for after your adventure
Money to rent additional supplies or equipment as needed, such as splash jackets or wetsuits
Expectations that you're going to get soaked and may even fall into the water
Knowing how to swim is not a must since most rafting companies will outfit you in a life jacket. And if you do fall in the water, keep yourself afloat and head toward the raft to hop back on.
What Not to Bring:
Jewelry or any accessory that is likely to fall out, unclip, or otherwise get lost
Wallet, identification, money (bring it to check in, but then leave it securely locked in the car)
Smartphone or other electronics, including your camera
If you have a waterproof camera, you still run the risk of losing it during the adventure. Many rafting companies have a photographer taking pictures of your adventure, so you can let someone else capture the moments while you stay busy enjoying them.
Enjoy the Ride
Show up about 45 minutes before your scheduled trip departure. That gives you plenty of time to check in, suit up, and prepare for the excitement ahead.
Perhaps the most important tip for white water rafting for beginners is to listen to your guide. He or she is there to help you stay safe while enjoying the ride to the fullest. Ask questions if you're unsure of where to sit, how to paddle, how to strap on your helmet or life jacket, or anything else that comes up.
Perhaps the second most important tip is to relax. No, we're not talking about being relaxed enough to fall asleep, but confident enough not to panic if you:
Happen to fall off the raft
Watch anyone else fall off the raft
Notice approaching waves or obstacles
Use your adrenaline to fuel your excitement, and you're much more likely to have an awesome time. And yes, you can expect there to be plenty of adrenaline pumping through your veins as you ride down the rapids!
Get a sneak peek of what rafting with American Adventure is like – then book your debut rafting trip with us today!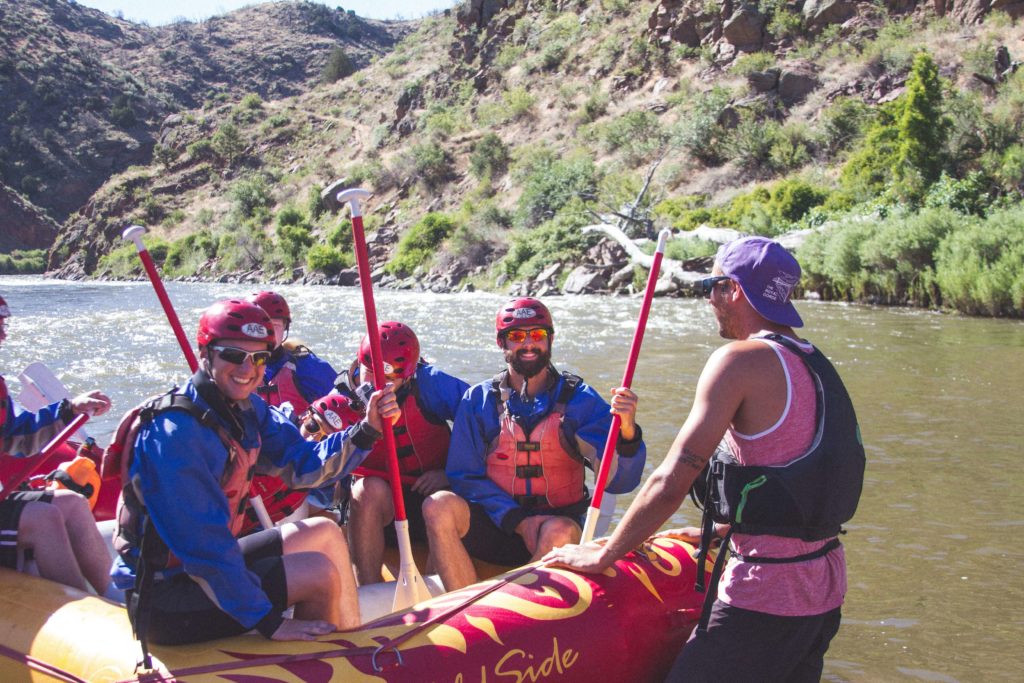 Share:
Next Post