Back to Blog & News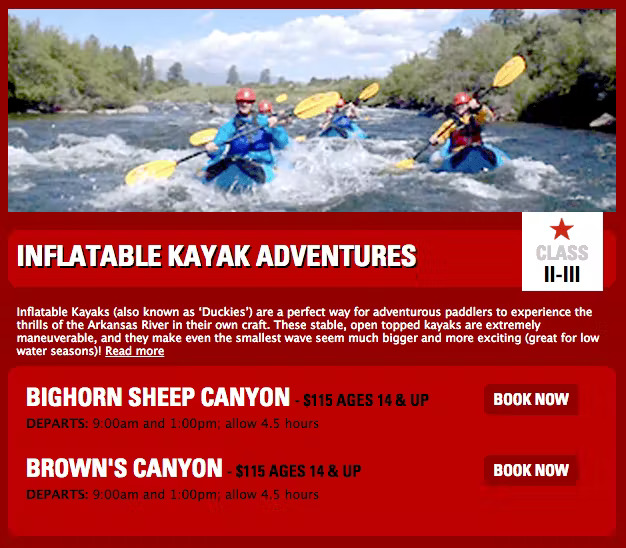 Why Wade When You Can Duckie!
American Adventure Expeditions

May 20, 2015

Blog
Inflatable Kayaks (also known as 'Duckies') are a perfect way for adventurous paddlers to experience the thrills of the Arkansas River in their own craft. These stable, open topped kayaks are extremely maneuverable, and they make even the smallest wave seem much bigger and more exciting (great for low water seasons)!

Each one of our Inflatable Kayak trips includes everything that you'll need for an amazing day on the river including your own boat, paddle,wetsuit, river shoes, splash jacket, life jacket,helmet, and a riverside BBQ lunch. On every one of our Inflatable Kayak trips there is an ACA Level 4 certified guide who will show you how to navigate your way through the rapids. We have a maximum guest to guide ratio of 5 to1…so plenty of individual attention.  Our Brown's Canyon Inflatable Kayak Adventures depart from our Buena Vista office, which is 2 miles South of Buena Vista.
The term "Duckie" was originally coined to explain how ducks learn to swim by following their mother duck down the river; the theory being that by observation of someone more advanced, one can take the best lines without having to be an expert. That's exactly why we set each of our Colorado inflatable kayak trips up with one of our Guides.
Share:
Next Post