{"autoPlay":true,"speed":4,"aspectRatio":"21:9","maxHeight":"550px","minHeight":"","controls":{"arrows":true,"dots":true},"backgroundType":"image","backgroundTagLineEnabled":true,"backgroundImage":"https:\/\/www.americanadventure.com\/wp-content\/uploads\/2016\/04\/arkansas_river-4.jpg","slides":[{"type":"buttons","mediaType":"image","image":"https:\/\/www.americanadventure.com\/wp-content\/uploads\/2016\/04\/Royal-Gorge-12.jpg","buttons":[{"text":"BOOK NOW","link":"https:\/\/fareharbor.com\/embeds\/book\/americanadventure\/items\/66034\/?full-items=yes","blue":true},{"text":"TAKE A 360\u00b0 TOUR","link":"\/virtual-tour\/","blue":false}]},{"type":"buttons","mediaType":"image","image":"https:\/\/www.americanadventure.com\/wp-content\/uploads\/2016\/04\/arkansas_river-4.jpg","buttons":[{"text":"BOOK NOW","link":"https:\/\/fareharbor.com\/embeds\/book\/americanadventure\/items\/66034\/?full-items=yes","blue":true},{"text":"TAKE A 360\u00b0 TOUR","link":"\/virtual-tour\/","blue":false}]},{"type":"buttons","mediaType":"image","image":"https:\/\/www.americanadventure.com\/wp-content\/uploads\/2016\/07\/20160715-IMG_2243.jpg","buttons":[{"text":"BOOK NOW","link":"https:\/\/fareharbor.com\/embeds\/book\/americanadventure\/items\/66034\/?full-items=yes","blue":true},{"text":"TAKE A 360\u00b0 TOUR","link":"\/virtual-tour\/","blue":false}]}]}
Overnight Rafting Trips
The only thing better than a thrilling raft trip down the Arkansas River is sleeping underneath the stars in 'rustic comfort' and doing it all again the next day! Welcome to our Royal Gorge Overnight Rafting Adventure!  After an exhilarating day on the water, relax and share the day's adventures around the campfire as your guides take care of everything. From preparing the gourmet meals to providing the evening's entertainment, they'll do more than just get you down the river with a smile on your face.  This trip is perfect for anyone looking for a longer whitewater experience and plenty of time to enjoy each other's company!  
Raft beneath the highest suspension bridge in the US (1,100 feet tall)!
Camp at our exclusive riverside outpost at the mouth of the Royal Gorge.
Three gourmet meals all prepared riverside by our multi-talented guides!
Whether it's a family reunion, a scout group, a bachelor or bachelorette party, or just a group of friends wanting to spend some quality time together, this is an experience that will create memories to last a lifetime.
Cañon City Rafting Outpost
Royal Gorge Overnight
Departs: 1:00 pm on Tuesday & Saturday
3 Gourmet Meals + 1 Snack Included!
The rafting alone on this trip with over 22 miles of world-class whitewater ranging from mild Class II to heart pumping Class IV would be enough to satisfy most whitewater enthusiasts, but we take it to the next level.  Gourmet meals prepared riverside, top-of-the-line camping equipment, and the most multi-talented entertaining river guides you'll find anywhere are what truly make this a trip of a lifetime!
*This trip departs from our Royal Gorge Rafting Outpost and the minimum age is 14 years old.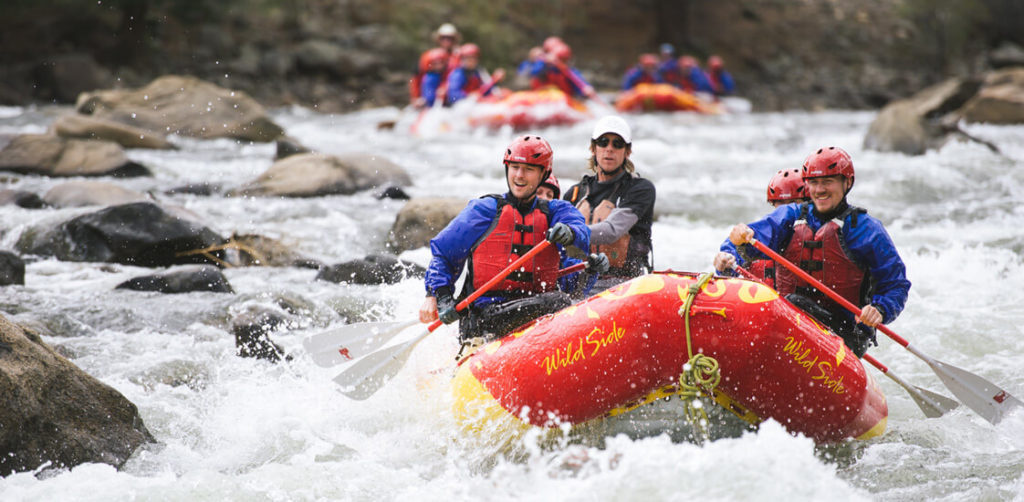 What To Expect
With years of experience in planning Colorado overnight rafting trips, we've come up with the perfect itinerary that's sure to exceed expectations. The combination of amazing rapids and breathtaking scenery, awesome wildlife and enjoyable company, along with our top-of-the-line camping equipment and gourmet meals will have you begging for just one more day… and night! Leave the planning to us and just get ready for an extraordinary Colorado rafting experience!  Camping with gourmet meals while happy guides turn into happy hosts; there is no better way to experience Colorado than sleeping under the stars after a memorable day of rafting.
What's Included
22+ miles of world-class whitewater including The Royal Gorge

3 gourmet riverside meals + 1 snack (Day 1 snack, Day 1 dinner, Day 2 breakfast, Day 2 lunch)

All necessary camping equipment (tent, sleeping bag, sleeping pad, pillow)

All the amenities of our 8 acre riverside outpost (showers, restrooms, riverside pavilion, campfire)
Menu
Day 1 Snack – Cheese, Crackers, Deli Meats, Condiments, Fresh Fruit, and Trail-Mix.  Water and Lemonade or Iced Tea served to drink.
Day 1 Dinner : Surf & Turf – Includes NY Strip Steak and Herb Marinated Shrimp Skewers.  Accompanied by Caesar Salad with lightly grilled romaine hearts, caesar dressing, and croutons, Grilled Asparagus, and Baked Potatoes with all the fixins'.  Campfire S'mores for dessert. Lemonade and Water served to drink.
Day 2 Breakfast – Cowboy Breakfast – Featuring Scrambled Eggs with bell peppers, onions, and cheese, Bacon, English Muffins, Yogurt, and Fresh Fruit.  Coffee, Juice, and Water served to drink.

Day 2 Lunch – Burger BBQ with ⅓ pound locally raised beef patty, Cheese, Tomatoes, Onions, Lettuce, Dill Pickles, Bacon, Avocado, Jalapeño slices, Ketchup, Mustard, Chipotle Aioli. Served alongside kettle chips fresh seasonal fruit, and brownies or cookies for dessert.  Lemonade and water served to drink.

**Alcoholic beverages are not included but are allowed after rafting on Day 1.  For anyone who is 21 or older you may bring your own drinks and ice and we can provide coolers.
Preparing for the Trip
What To Wear & Bring
The key to enjoying your overnight rafting experience to the fullest is being properly prepared and dressed.  Although we take care of just about everything, here's a list of things that we recommend to wear and bring:
Swimsuit

Quick-Drying Clothes (no cotton, no denim) for on the river

Sun Hat

Sunglasses

Sunscreen

Dry Clothes & Towel for off the river

Water Shoes (No Flip Flops, Crocs or Bare-feet!)

Money for items such as:

Photos

Souvenirs

Guide Gratuity
Optional Rental Gear (Included in the Price):
Although most summer days include plenty of sunshine, you have to remember that this water is coming straight off the Rocky Mountains and can sometimes be a bit chilly.  No need to worry as we have all of the gear that you could possibly want or need to make sure that you're as comfortable as possible, and it's all included on this trip at no extra charge.
If you're not sure what you'll need, don't worry.  Come in the day of your trip and our friendly staff will give you an honest recommendation based upon water levels, air temperature, and weather forecasts.  We have a 100% satisfaction guarantee so making sure you're comfortable is our top priority.
Wetsuit

– Stretchy 2mm neoprene keeps your core warm without unnecessary bulk

Splash Jacket

– Urethane coated nylon jacket with neoprene neck and wrist gaskets to help with the splash

River Shoes

– Neoprene boots that keep your feet warm, comfortable, and well protected