{"autoPlay":true,"speed":4,"aspectRatio":"21:9","maxHeight":"550px","minHeight":"","controls":{"arrows":true,"dots":true},"backgroundType":"none","backgroundTagLineEnabled":false,"slides":[{"type":"buttons","mediaType":"image","image":"https:\/\/www.americanadventure.com\/wp-content\/uploads\/2016\/04\/zip-1.jpg","buttons":[{"text":"BOOK NOW","link":"https:\/\/fareharbor.com\/embeds\/book\/americanadventure\/items\/66001\/calendar\/","blue":true},{"text":"RAFT + ZIPLINE PACKAGES","link":"\/adventures\/rafting-zip-line-package\/","blue":false}]},{"type":"buttons","mediaType":"image","image":"https:\/\/www.americanadventure.com\/wp-content\/uploads\/2016\/04\/zip-2.jpg","buttons":[{"text":"BOOK NOW","link":"https:\/\/fareharbor.com\/embeds\/book\/americanadventure\/items\/66001\/calendar\/","blue":true},{"text":"RAFT + ZIPLINE PACKAGES","link":"\/adventures\/rafting-zip-line-package\/","blue":false}]},{"type":"buttons","mediaType":"image","image":"https:\/\/www.americanadventure.com\/wp-content\/uploads\/2016\/04\/zip-3.jpg","buttons":[{"text":"BOOK NOW","link":"https:\/\/fareharbor.com\/embeds\/book\/americanadventure\/items\/66001\/calendar\/","blue":true},{"text":"RAFT + ZIPLINE PACKAGES","link":"\/adventures\/rafting-zip-line-package\/","blue":false}]}]}
Zip Line Tours Colorado
Colorado zipline tours are one of the most thrilling ways to take in views of The Arkansas River Valley. Soar high above the gorgeous Lost Canyon on one of 7 fun and exhilarating zips reaching speeds of up to 40 miles per hour! Families and adrenaline-junkies alike will enjoy this exciting tour! Come zip with our friendly and experienced guides and enjoy a true eco-tour in the heart of the Colorado Rockies. 
High-flying fun for the whole family!
Complete pre-trip orientation & instruction from our expert staff.
Beautiful views and all necessary equipment included.
We aim to make this adventure the highlight of your vacation: although it looks extreme, it's actually relatively easy to do.  Zipline adventures are great for families with children ages 6 and up as well as adventure-seekers looking to test their love of heights!
Captain Zipline - Salida, CO
Zipline 1/2 Day
Departs: 9:00 am & 2:30 pm
After your thorough orientation and instruction, get ready to soar on your own! This zipline course includes 7 awesome 'zips' and was named one of the 6 best zipline tours in the USA by Outside magazine. Trust us, you'll be glad you did this!
*This trip departs from the Captain Zipline Outpost in Salida, Colorado and the minimum age is 6 years old.
A Typical Ziplining Trip
Your safety is our highest priority, therefore we do require an orientation on the Bunny Ziplines. This practice gives our zipliners the confidence and skills needed to fly the cables that span the canyon and get the most from this unique Colorado zipline experience.  Once you've 'checked out' on the bunny ziplines, get ready for high-flying thrill as you soar above the canyon floor, some 100-200 feet below. Our guests come for the Colorado zip line experience, but they get a whole lot more–while taking short hikes between the platforms, they can marvel at the 300 million-year-old colorful rocky cliffs, look down at the 1890 lime kiln ruins and abandoned silver mine shaft, or learn about the area's rich past, steeped in mining and Wild West history. Check out the views of awesome 14,000 ft. mountain peaks from the zipline platforms…after all, this is Colorado Rocky Mountain High at its finest!
Recommended Add-Ons Or Packages
Package this ½ Day Zipline Adventure with a family-friendly Brown's Canyon Rafting Adventure OR a challenging Numbers Rafting Adventure. For our beginner to intermediate groups, start your day with some of Colorado's best Class II/III rapids through this incredible national monument and enjoy fun whitewater. Or for our intermediate to advanced groups, try your paddle at the demanding Class IV/V rapids of the Numbers. After your rafting trip, enjoy lunch prepared by your guide at our private riverside beer garden, and then down to Salida for an afternoon of soaring high on your zipline adventure.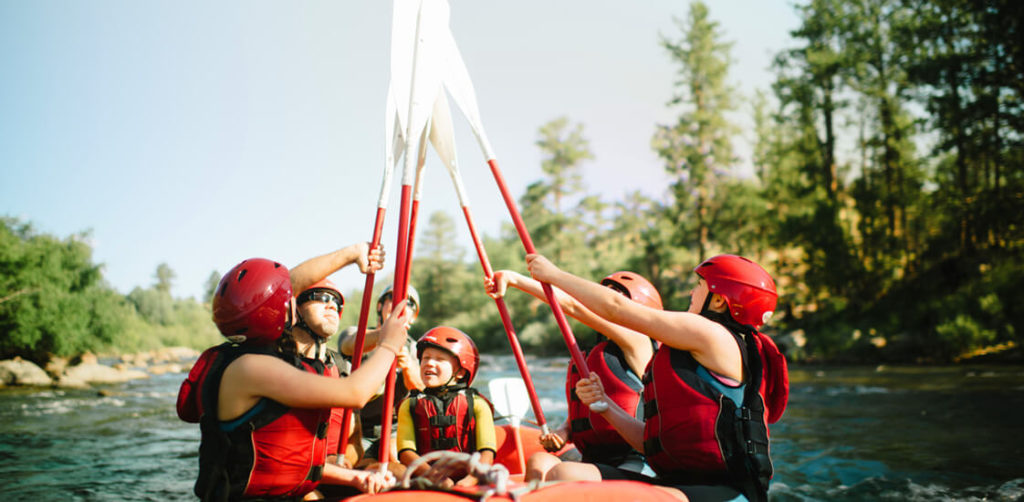 Preparing For The Trip
Who Should Go Zip-Lining?
Most people that lead an active lifestyle and are in good health should not have any difficulty ziplining with us. Adventurers from 6 years of age and up can zip. For our Guest's comfort and safety, we limit men's weight to 250 pounds and women to 190 pounds. (Women are usually shorter than men and carry their weight differently; that is why the weight cut-off varies by sex.) There is some flexibility for very tall customers. In reality, this rule is a generality and it all comes down to body size, shape, fitness. It is our responsibility to assure that the harnesses fit correctly and comfortably. The absolute maximum allowable circumference–measured around the belly-button area–is 44 inches; the absolute maximum circumference at the top of the thigh is 24 inches. If you exceed these limits, the harness will not fit correctly and will not be safe or comfortable.
Kids must be at least 6 years old and weigh at least 55 lbs.; if between 6 and 12, and/or under 100 pounds, they will have to zip on the cables in tandem with a Guide because they may not have enough weight (or mental focus) to safely carry themselves across the entire cable length. While doing so, the child is in his/her own harness with slings and a pulley and the Guide is behind them, attached with a safety sling and carabiner. After the first few cables, these Guests may be able to go by themselves if the Guides determine they can do so properly and safely.
What To Wear & Bring
The key to enjoying ziplining in Colorado to the fullest is being properly prepared and dressed.  Here's a list of things that we recommend to wear and bring:

Closed Toe Shoes (Absolutely no sandals!)

Light Jacket

Hair tie for long hair

Sunglasses

Sunscreen

Water Bottle

Money for items such as:

Photos

Souvenirs

Guide Gratuity

Souvenirs

Guide Gratuity