Back to Blog & News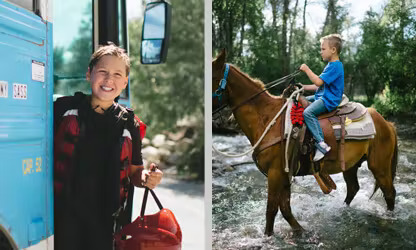 A Colorado Must-Do: Rocky Mountain Horseback Riding Adventure
American Adventure Expeditions

August 11, 2016

Blog
The Arkansas River Valley is historically significant for many reasons, but one of our favorites is it's deep roots in rich Wild West lore. From gold mining to shootouts at salons, our Arkansas River Valley boasts great history and beautiful views.
What's the best way to experience the beauty of the Arkansas River Valley, besides by raft, you ask? By horseback, of course!
Our horseback riding tours are a fantastic way to see the beautiful Arkansas River Valley, boasting the highest concentration of 14,000' peaks in the lower 48 states. This gorgeous river valley is home to tons of wildlife, scenic meadows, and flowing creeks that you will get to experience during your 2-hour ride.
The horseback riding tours offer a variety of guided trail rides for all ages and abilities. Horseback riding in Colorado is a great way to involve the whole family – from mild trail rides to more challenging mountain landscapes, riders of all experience levels will enjoy a trip through the high country. Bring the whole family and enjoy a guided tour through the beautiful Collegiate Peak Mountain Range.
Pair your Horseback riding adventure with a whitewater adventure
and get the full Colorado experience in one day! When you book a horseback riding and raft adventure together, lunch is provided for you at our outpost! Every lunch consists of burgers, veggie burgers, chips, fruit, all the burger fixings and water. If you have dietary needs, please let us know at booking and we would be happy to accommodate!
Book now
and experience Colorado in an authentic way! Create memories that will last a lifetime and end summer on a good note by splashing down Colorado's most epic whitewater!
We hope to see you out on the river this summer!
Share:
Next Post