Back to Blog & News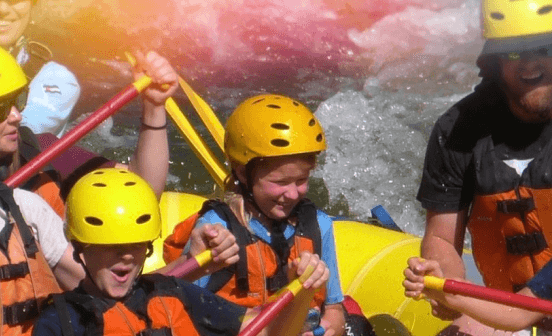 Bighorn Sheep Canyon Rafting – Wildlife and Wild Whitewater Rapids Combined
American Adventure Expeditions

April 8, 2011

Blog, Colorado Rafting Articles
Any family visiting the Colorado Springs area should definitely considering a Bighorn Sheep Canyon rafting trip! In just a quick hour drive from Colorado Springs, you'll find Canon City, Colorado…home of the world-famous Royal Gorge. Although the Royal Gorge is most famous for two things: the world's highest suspension bridge and one of the 10 whitewater runs in the country – the Royal Gorge, there is an ideal and milder section of river right above the Royal Gorge called Bighorn Sheep Canyon. For those families and first-timers that aren't looking to tackle Class IV and V rapids, this is the perfect stretch of river to 'get your toes wet' and get a great taste of real Colorado whitewater rafting.
Bighorn Sheep Canyon Background
Bighorn Sheep Canyon, which is named for the numerous herds of bighorn sheep that inhabit this beautiful canyon, offers over 20 miles of fun Class I, II, and III whitewater. It is what we call a 'pool drop' section meaning that you'll go through a rapid and then it will be calm for a bit, then you'll go through another rapid, etc. It's a great way to experience the exciting rapids but also take some time to enjoy the pristine beauty and abundant wildlife! American Adventure Expeditions offers two trips through Bighorn Sheep Canyon, a ½ day Trip and a Full Day Trip.
Bighorn Sheep Canyon Rafting Trips
Half Day Bighorn Sheep Canyon trips are about 10 miles long and typically last between 2 and 3 hours, depending on water levels (the faster the water is moving, the less time it takes to go 10 miles!). These trips depart at 9:00, 12:00, and 3:00 and we ask that everyone arrive 45 minutes early to check-in. Full Day Bighorn Sheep Canyon rafting trips are about 20 miles long and typically last between 4.5 and 6 hours, depending on water levels. Full Day trips also include a gourmet riverside lunch served in the Canyon by your guide! Lunch includes your own custom built herb tortilla wrap which you'll fill with local deli meats and cheeses, avocados, bacon, and all kinds of veggies. You'll also enjoy some kettle cooked potato chips, fresh fruit, and cookies or brownies.  The perfect lunch to tide you over (don't eat too much or you'll be too sleepy to paddle!) until you arrive back to our outpost. Full Day Bighorn Sheep Canyon Trips depart at 9:00.
Bighorn Sheep Canyon Whitewater Rafting
Each of our Bighorn Sheep Canyon rafting trips departs from our Cañon City outpost, which is located about 1 hour from Colorado Springs and 2 hours from Denver. Our Cañon City outpost is the perfect place for your Bighorn Sheep Canyon trip as it is located right on the river! When you arrive at our outpost to check-in, we'll get you geared up and ready to go and you'll listen to our pre-trip safety orientation. Once everyone is ready to go, we'll drive you up the canyon (10 miles for the ½ day trip and 20 miles for the full day trip). And since we're riverside, you'll raft right back to our outpost. This means that there is no bus ride home in wet clothes!
Whether you have a whole day to spend in Bighorn Sheep Canyon or just a few hours, we have the perfect trip for you! There is no better way to see the canyon than from your raft…the wildlife and rapids will leave everyone thrilled and ready for more!
Share:
Next Post