Back to Blog & News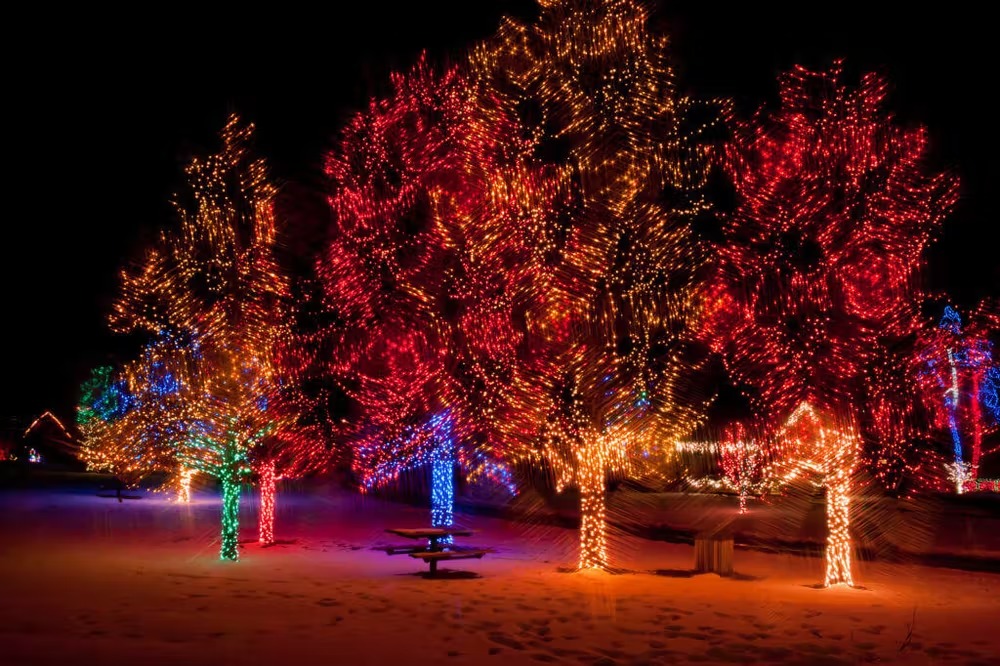 The 5 Best Christmas Light Displays in Colorado
American Adventure Expeditions

December 21, 2017

Other Area Activities to Check Out
Outdoor enthusiasts rarely need an excuse to head outside, although the shimmery array of holiday lights throughout Colorado serve up a sensational one. Check out five of our favorite light set-ups, which we rank as the best Christmas light displays in Colorado.
Blossoms of Light, Denver
The Denver Botanic Gardens are amazing any time of year, so you can just imagine its brilliance when it's decked out with holiday lights. Located in central Denver, the beautiful Blossoms of Light has become an annual favorite, bursting with a kaleidoscope of color and fanfare. An interactive light display is even part of the mix, featuring an expansive field of animated LED lights that react to nearby sounds.
Denver Zoo Lights, Denver
The Denver Botanic Gardens display covers the flora, and the delightful Denver Zoo Lights covers the fauna. The sheer size of the display alone is enough to make your head spin, with 60 acres of splendor waiting for you to enjoy.
One of the top highlights include the illuminated animal sculptures that jump, swing, hide, and pop up where you may least expect them. Santa is also on-hand, giving kids an added treat to an already sweet event.
Santa's Village at Chatfield Farms, Littleton
The Chatfield location of Denver Botanic Gardens won't be left out in the cold when it comes to lights, as it has its own enchanting event. Formerly known as the Trail of Lights, the display is now called Santa's Village at Chatfield Farms.
In addition to the dazzling display of lights, visitors get to enjoy hanging out with Santa, live reindeer, a living snowman, and Mrs. Claus. Crafts, story time, food, and gift shopping are also part of the mix.
The North Pole, Cañon City
Part of the Royal Gorge Route Railroad's Santa Express Train, the North Pole built outside of Cañon City is a Colorado Christmas light display that can't be missed. When the train pulls into the North Pole, you'll be greeted by over 30,000 twinkling lights decorating Santa's snowy village.
The train ride up to the North Pole's Christmas light display also comes with a holiday sing-a-long, hot cocoa, Christmas cookies, and a visit from Santa himself.
Electric Safari, Colorado Springs
The Cheyenne Mountain Zoo in Colorado Springs serves up one of the best Christmas light displays by combining marvelous lights with majestic wildlife. Not only do you get to revel in 85 light sculptures peppered throughout the 50 acres of the zoo, but you can also pay a visit to a few of the zoo's nocturnal residents.
The giraffe barn and Rocky Mountain Wild are two of several exhibits that remain open throughout the Electric Safari, providing a wonderfully wild perk. Additional bonuses include cozy fire pits throughout the zoo, along with a stunning view of the Colorado Springs nighttime skyline.
These five best Christmas light displays provide plenty of splendid reasons to get out and enjoy the winter. If you need an excuse to get outside during the warmer months, a whitewater rafting trip can fit the bill. Contact American Adventure Expeditions for more info today.
Share:
Next Post