Back to Blog & News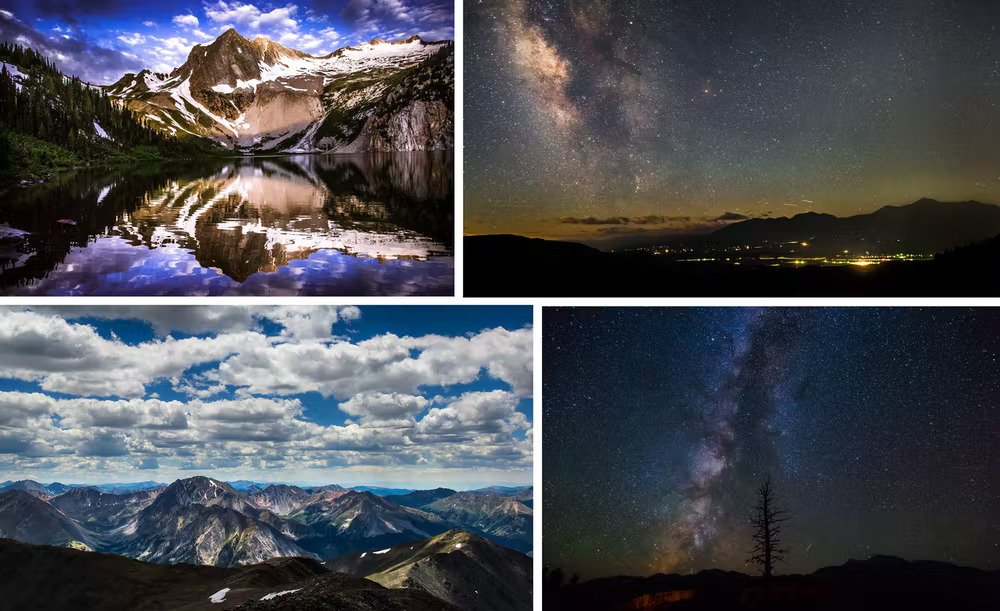 Inspiration to Explore Before It's Too Late!
Breathtaking sights of Colorado range from majestic snow capped peaks all the way to beautiful desert formations.  It's easy to forget how drastically the environment can change within just an hour or two of driving.  Here at American Adventure Expeditions, we will always appreciate our locations along the Arkansas River, but we wanted to share these photos and videos in an attempt to inspire anyone looking for a reason to go out and explore this unbelievably magnificent part of the world.  Check out a few of our favorite shots and a quick description of how to view these locations yourself!
All four of these pictures were taken around the Sawatch Range in Central Colorado.  The top left is a shot of Snowmass Lake, which will require about an 8 mile hike over Buckskin Pass from the trailhead for Crater Lake in Aspen.  The top right image is a photo of Johnson Village, home to our Northern Outpost, and it was taken from a public campsite about a mile down County Road 315.  To get the view on the bottom left, take a quick hike up the tallest mountain in Colorado, Mount Elbert.  It will take about 4 or 5 hours from the beginning of the Southern Trailhead to reach the summit, assuming you are able drive up the 4×4 road and can conquer a vertical increase of a little more than 4,000 feet.  The bottom right image is less than a mile away from our North location down Country Road 300 on the way to the Ruby Mountain Campground.  If you've ever rafted from the Buena Vista office, you might recognize Rainbow Rock on the bottom portion of this shot! 

Lastly, we wanted to show off two mesmerizing time lapses that will give you a perspective of the Milky Way Galaxy you probably haven't seen before!  The video above is from the South entrance of the Royal Gorge Park and the following post from a night near the Green Mountain Reservoir.

Thanks for checking out the post!  If you have any questions about amazing areas to explore or if you are in need of an adrenaline rush, come rafting with us here at AAE!
Share:
Next Post