Back to Blog & News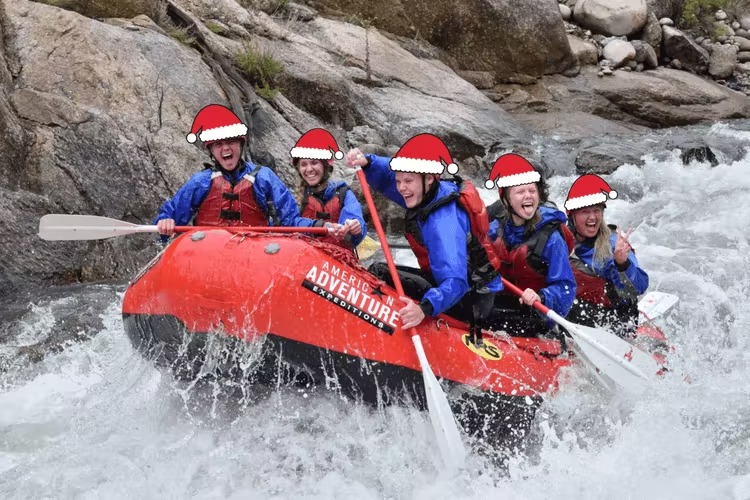 5 Funny Outdoor Christmas Photo Ideas
American Adventure Expeditions

December 4, 2017

Blog
Christmas cards are terrific, but even those with posed family photos can all start to look the same. If you're bored of arranging your family in woolly sweaters in front of the Christmas tree, you have more eye-catching options. You can instead create a holiday card that combines your love of fun with your love of the great outdoors using these five funny outdoor Christmas photo ideas.
Decoration Debacle
What you need: Strings of lights, plastic carolers, inflatable snowmen, tinsel, or any other type of outdoor Christmas décor that would typically bedeck your yard.
What you do: Imagine the worst possible decorating mistakes you could make, then make them as someone snaps the camera. They don't have to be permanent mistakes, of course, but they should be sensationally ridiculous.
Try wrapping your pal in lights, positioning the plastic carolers upside down, or have someone stuck in a big pile of snow. All silly scenarios welcome!
Snow Family Greetings
What you need: Snow, family members, hats, gloves and other outdoor accessories. Pets if desired.
What you do: Get lots of shots of your family members having fun in the fluffy, white snow in the yard or up in the mountains. Build a snowman for every member of the family, but leave off the snowmen heads. Have family members stand behind each body, with their heads peeking out with big, fat smiles.
Other snow family ideas include cramming the family into a snow fort, snapping a family snowball fight, or getting your pets into the mix. Build a snow dog or snow cat for your four-legged family members, then give them a treat so they sit sweetly next to it while you snap a few pictures.
Winter Chore Happiness
What you need: Snow shovels, snow blower, ice scraper, or any other tools that suggest you're hard at work with outdoor winter chores.
What you do: Similar to the decoration debacle, the winter chore photo should showcase you and your family performing your outdoor winter chores in the worst possible manner. Perhaps Dad is shoveling snow onto the hood of Mom's car, the kids are using ice scrapers as swords, or the dog is pulling the snow blower on a wild ride.
The Great Contrast
What you need: Anything that is pretty much the opposite of what traditional winter looks like, such as a cactus, a sandy beach, or a swimsuit.
What you do: The great contrast photo makes it onto the list of funny outdoor Christmas photo ideas by its premise alone. Here you want to contrast the traditional winter cold and snow with things you wouldn't normally find. Like your family on the snowy driveway clad in winter boots and bathing suits.
If getting your family outdoors in their bathing suits in freezing weather isn't going to happen, you can always head to a warmer climate and bring something wintery along. Try bedecking a cactus with a Santa hat or erecting a small Christmas tree at the beach.
Holiday Rafting Adventure
What you need: A snap from your family's outdoor adventures this year and some photo editing skills.
What you do: Take that wild snap of your family braving the white water from your rafting trip this summer, and add some Santa hats on to your family's heads. Alternatively, you could add some snowmen floating in the river or riding the raft next to your family. If your photo editing skills are more basic, simply add a holiday border to the image to add a bit of holiday flare while showing off your epic white water adventure.
The main aim of your Christmas card is to send happy greetings, and a funny photo tends to bring instant happiness when it makes recipients laugh out loud. So have fun with whatever outdoor photo idea you choose, and keep American Adventures Expeditions in mind when you're ready to snap next year's holiday white water rafting photo.
Share:
Next Post