Back to Blog & News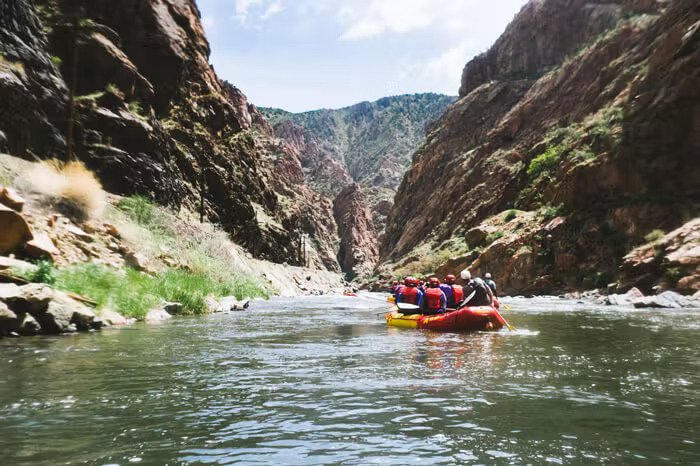 Practice Social Distancing and Have Fun, Too!
American Adventure Expeditions

May 20, 2020

AAE News, Blog
Are you wondering what you and your family are going to do for fun this summer? Do you worry about keeping everyone happy all summer long with social distancing practices in place and so many things closed?
At American Adventure Expeditions, we are excited to announce that we are opening on June 1, 2020, and that we plan on running river rafting tours all summer long. Whitewater rafting is a great way to have an adventure with your family and friends that you will remember long after COVID-19 is a thing of the past.
Outdoors is Safer
Concerned about safety? Get outside!
It's much harder for someone to pass along COVID-19 outside. Unless someone is right up in your face, the virus particles disperse before they have a chance to infect someone else.
One of the easiest ways to spread COVID-19 is by sitting inside buildings with recirculated air. Many office buildings use this technology but, when you're outside, you get clean, fresh air all time.
Our whitewater rafting experts will make sure you have an amazing time in the great outdoors, that you stay safe, and that you have stories to tell for many years!
We'll Help You Practice Social Distancing
We'll space you out on our rafts so that you don't have to sit too close to anyone who isn't in your immediate family. If your group is the right size, we may even be able to put you all on a raft by yourselves with a guide. (americachip)
If you're concerned about catching COVID-19, call us and let us know. We'll come up with a plan that will let you have the whitewater adventure you're craving without any anxiety or worry on your part. Let us know your concerns and we'll let you know the plans that we have in place to keep you safe.
Book a Private Tour!
If you're still concerned about contracting COVID-19 or you want to tailor your whitewater experience to your group's specific needs, call us today and schedule a private tour. We'll get you out on the river, just your group and our guides.
Call us today to find out how you can have an adventure you'll love in a way that is completely safe for your whole group. Our team of experienced whitewater professionals will give you the adventure of a lifetime! Book now because we fill up fast!
Share:
Next Post