Back to Blog & News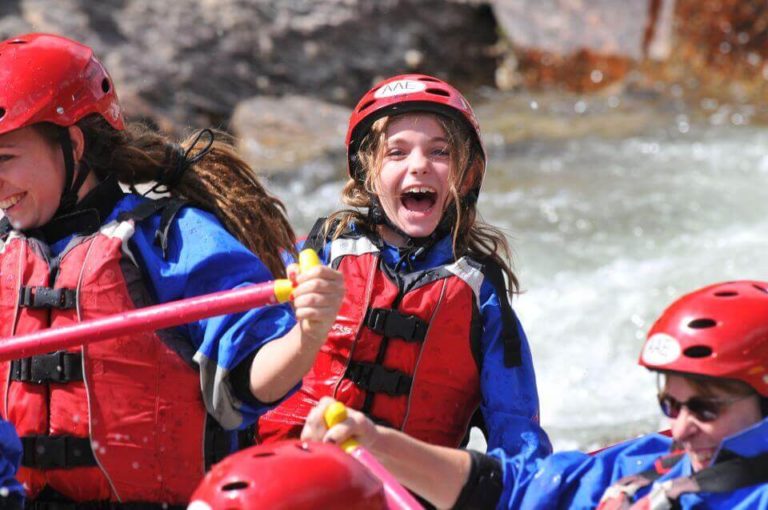 Rafting In Breckenridge
There is not a more quintessential Colorado town than Breckenridge! Breckenridge is exactly what you think of when you think of a Colorado town; nestled at the base of large mountain peaks, a walkable downtown area, plenty of outdoor adventure activities, boutique shops, and lots of locally-owned restaurants all to entertain and feed you and your family or friends.
If you're lucky enough to get to spend some time here in Breckenridge this summer, you'll see what we mean! Once you find your ideal choice in lodging and make a few restaurant reservations, you'll be ready to book some adventure activities for a true Colorado vacation.
First on your list must be whitewater rafting! Whitewater rafting near Breckenridge is a classic Colorado adventure; the ideal summer sport for all ages and abilities. The Arkansas River is the most popular rafting destination in Colorado and after a scenic hour in the car, you'll arrive at American Adventure Expeditions, your starting point for whitewater adventure!
Here at American Adventure Expeditions, we offer a variety of whitewater rafting adventures within an hour drive from Breckenridge. Trips range from family-friendly to high adventure and everything in between.
For those of you who are just looking to get your toes wet (but maybe not soaked from head to toe!) the Family Float is the perfect adventure. A few miles on the Arkansas River with no real rapids but a few fun 'riffles', this is the ideal introduction to whitewater rafting for adults and kids ages 5 and up. The closest thing to a flat water trip that we offer, you'll experience what it's like to be in the boat, learn about the area, and about rafting in general (how to sit and stay in the boat, how to follow your guide's paddle commands, and proper paddling techniques), all while taking in the incredible views of Mt. Princeton and the surrounding area.
If you're ready for some real rapids, then rafting through Browns Canyon is the adventure for you! A classic Class II-III stretch of whitewater appropriate for adventurous kids ages 7 and up with tons of rapids and incredible scenery, this trip is going packs in a ton of fun as you ride through Colorado's only 'raft-able' National Monument! Choose between our Classic Tour (about 10 miles, allow up to 3 hours) or our Deluxe Tour (about 17 miles, allow up to 6 hours and enjoy lunch on the river plus the two most exciting rapids of the day!).
For the true adventure-seekers who want to try their hand at some Class V whitewater, it's time to try The Numbers. This classic tour consisting of 8 miles of fast-moving whitewater is one of the most advanced runs in the state. Although previous experience isn't required, we do ask that everyone is 15 or older and is comfortable in the water and in good physical condition as there's lots of paddling involved. From that first push off the shore to your last paddle high-five at the end of rapid #7, you'll be tackling these rapids with non-stop whitewater action!
If you're drawn to high-adventure but aren't sure you want to drop right into The Numbers, try our Numbers Deluxe Trip. This exclusive adventure starts in Browns Canyon for a perfect warm-up to get acquainted with your guide's paddle commands and start working as a team which will greatly increase your confidence and competency for those more adventurous rapids of The Numbers in the afternoon. Enjoy lunch in our riverside beer garden between trips to fuel you for this epic Colorado adventure.
There are certainly plenty of whitewater rafting options near Breckenridge! A beautiful, easy, one-hour drive will get you to the whitewater capital of Colorado with a variety of adventure levels to choose from. Breckenridge rafting trips are an ideal addition to your summer vacation in Colorado and we hope to see you on the river soon!
Share: