Back to Blog & News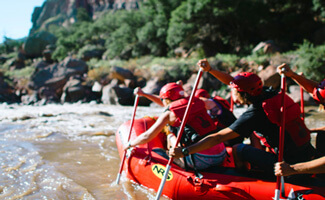 Rafting Along The Royal Gorge
American Adventure Expeditions

June 8, 2013

AAE News, Blog
What's that up there? Looks like a pretty big rapid followed by a hard left turn… I wondered how we were going to negotiate it, then our guide Curtis hollered "Sunshine rapid is up ahead! Get ready for a hard forward paddle followed by a lean-in, then get back upright and be ready for my next command!" Sunshine was no bask in the sun – but the beauty and adrenaline rush that is The Royal Gorge was an adventure to remember.
Yesterday I made my first visit to our Royal Gorge outpost. It was an awesome drive through Bighorn Sheep Canyon there on a beautiful sunny day. After quickly checking-in, suiting up, and strapping on my helmet and PFD we walked down to the river-side put-in. Our boat was loaded with six strong paddlers and soon we were crashing through our first rapids with ease.
Before long the canyon grew narrow and high above we could see the suspension bridge and people waiving and cheering us on as we hit the meat of the rapids. The granite walls towering nearly 1000 feet above dominated our view, and the sound of the river rushing all around us completed a rafting moment I'll always remember. By the time we floated into Canon City for take-out I was already wondering when I could plan my next trip – turns out Curtis wanted that to be right when we got back to the outpost – however my appetite for a hearty lunch won out. But I'll be back rafting on the Royal Gorge before long.
-Adrian
Share:
Next Post