Back to Blog & News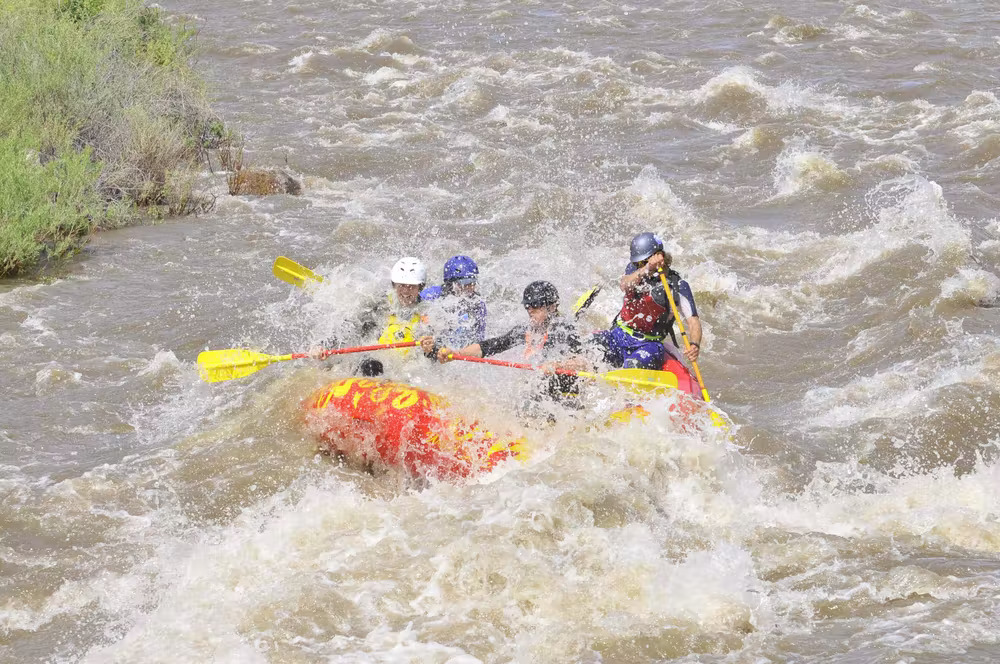 All You Need To Know About AAE Raft Guide Training
American Adventure Expeditions

June 15, 2016

Blog
Earl guiding a "turkey boat" down five points in the Bighorn Sheep Canyon. (A turkey boat is a raft full of trainees practicing running the river.)
Our 2016 raft guide training course has finally came to an end and we would like to introduce to you our amazing 2016 rookies! For the past three weeks they have been training on and off the water for five days a week. They have logged over 100 hours in the breathtaking Bighorn Sheep Canyon and the thrilling Browns Canyon sections of the Arkansas River.
Returning guides always joke that, "These next three weeks are going to be the best three weeks you'll never want to do again." Mainly because it is still springtime up here in the Rocky Mountains and the weather is variable. Last year the trainees were training in below freezing conditions with snow on the ground.
Our raft guide training program is an exciting three week program. Trainees raft each day with some of our most experienced guides and conquer their fears together. They are required to keep a logbook of how many miles they cover each day, what they learned and who their trainers were. The state requires 50 hours of on-water training, but our trainees complete over 100 hours with our experienced guides.
Through training they learn about the proper rigging and maneuvering of rafts, river currents, eddies, waves, river hazards, types and causes of river rapids, scouting and running rapids, river rescue and emergency procedures, how to minimize outdoor recreation resource impacts and how to properly fit personal flotation devices. At the end of training, the trainees have to complete a checkout run where they guide paying commercial guests down the river with a senior staff guide in the raft as well. If they successfully run the river, they are then cleared to guide commercially.
On Saturday, June 11th we had our company party where both outposts got together to have dinner and to celebrate the trainees finishing training. Each trainee was given an award based off of his or her time spent in training.
Earl, in particular, was awarded the "personality award" because he is always helping, loves living the "raft guide lifestyle" and has a funky, yet charming personality on and off the boat.
Austin was awarded the "chill" award because no matter what the situation is, he approaches it calmly and with ease. If he is going sideways into a rapid, "it's all good" according to him, he doesn't sweat the small things.
"Overall training went very well," said Levi, head guide training coordinator at AAE. "They had to battle pretty harsh weather conditions all three weeks of training. Some even wore two to three wetsuits to stay warm because they were in the water all day, everyday. I'm pretty stoked on this group of rookies, they have came a long way and I can't wait to see them progress as the summer continues."
Congrats 2016 rookies! We hope you had fun and are ready for a spectacular summer on the Arkansas River!
Share:
Next Post