Back to Blog & News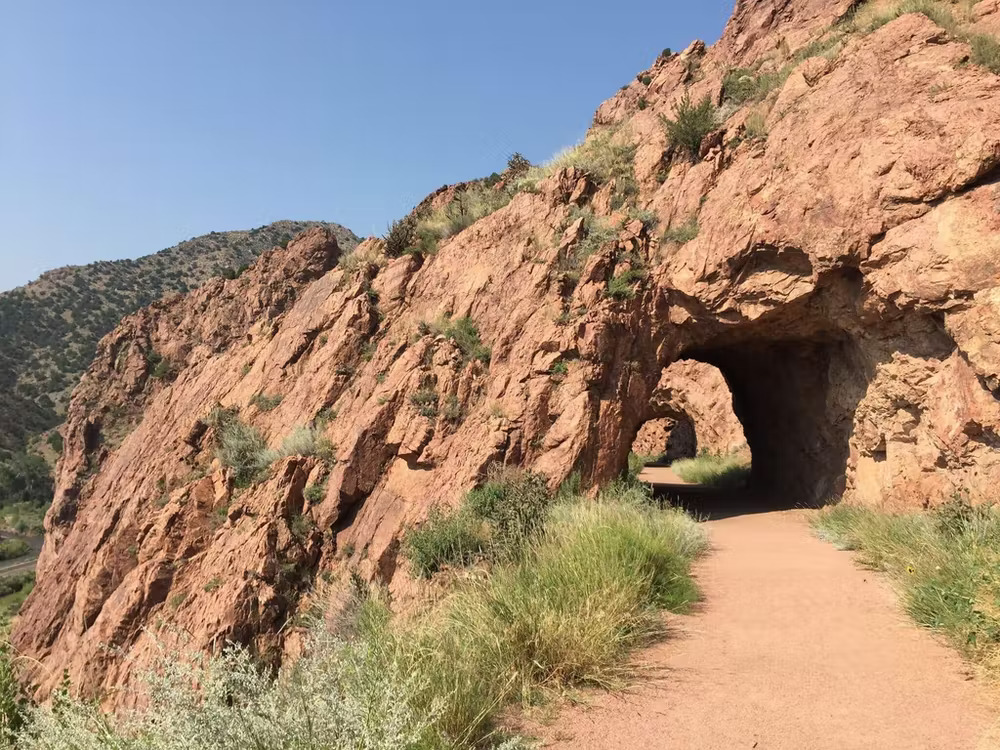 The 6 Best Hikes In The Arkansas River Valley
American Adventure Expeditions

July 28, 2016

Blog
Colorado is the outdoor enthusiast's dream. With mountains to summit, world-class whitewater to raft, walls to rock climb, and tons of trails to hike and bike, people travel from all over the world to get a taste of the Rocky Mountains.
Want to get in on some of the Rocky Mountain outdoor action? There are many beautiful hikes in the Arkansas River Valley, all within close proximity to both of our outposts! Take a hike in the morning and then raft with us in the afternoon to cool off! What could be better?
Hikes near our Royal Gorge outpost:
Tunnel Drive: Tunnel Drive is a 2-mile hike, out-and-back, trail that meanders along the Arkansas River while going under a few rock tunnels. It's an easy – moderate hike for those looking for a quick walk before or after rafting. Dogs are allowed as long as they are kept on-leash.
Royal Gorge Rim Trail: Although not along the water, this trail follows the edge of the Royal Gorge Canyon and features many great viewpoints of the river and the Royal Gorge. This easy – moderate hike wanders through the hills at the top of the Royal Gorge and is a great hike for kids.
Directions: Head east on HWY50. Take a right for the Royal Gorge Bridge and Park on CoRd3a. Continue on this road for 3.5 miles till you see the trailhead parking and bathrooms on the right hand side of the road. The trailhead is located across the street from the parking area.
Temple Canyon: This is a great intermediate hike along the Grape Creek and eventually leads to the Arkansas River. There are a few pools of water to dip your feet in on hot summer days. This is a decently long hike with a lot of elevation gain on the way up. We advise wearing sturdy shoes and bringing plenty of water.
Directions: From U.S. Highway 50 on the west side of Canon City, turn south on 1st Avenue. Then follow the signs to Temple Canyon Park.
Hikes near our Buena Vista outpost:
Lost Lake: This is a beginner friendly hike, just 30 minutes outside of Buena Vista. This hike leads up to a beautiful alpine lake and only takes about 30 – 45 minutes one way and is about 2.6 miles round trip. This is a great hike for families or those not accustomed to Colorado's high altitude.
Directions: From the stoplight in downtown Buena Vista at the intersection of U.S. 24 and Main Street, head west on Main Street/CR 306 and travel for 18.1 miles. You'll be going in the same direction as Cottonwood Pass. The trailhead will be on your left, and a small parking section is located on the right side of the road; keep your eyes peeled because the trailhead can be easily missed.
Cottonwood Creek Trail: This trail is a great beginner hike that meanders through the Buena Vista town limits and is maintained by the Buena Vista School District. At 3.33 miles, this trail is a loop that begins and ends at the Buena Vista Town Hall.
Directions: The Cottonwood Creek Trail can be accessed from the McPhelemy Park trailhead, from the Marquard Nature Area (behind Buena Vista Middle School).
Bear Lake: This is a great intermediate hike, heavily trafficked out and back trail near Buena Vista. The trail meanders west along North Cottonwood Creek, crosses streams and ends up in a basin above treeline where you will see a sign for Bear Lake. Take the trail to the left and hike a few more minutes to the lake. This hike features great views of Colorado's 14ers, Mt. Yale, Mt. Columbia and Mt. Harvard. If you want to make this a longer day hike, continue up from Bear Lake and follow the cairns up to the top of Mt. Harvard standing at 14,423ft, the second highest 14er in Colorado.
Directions 
Share:
Next Post