Back to Blog & News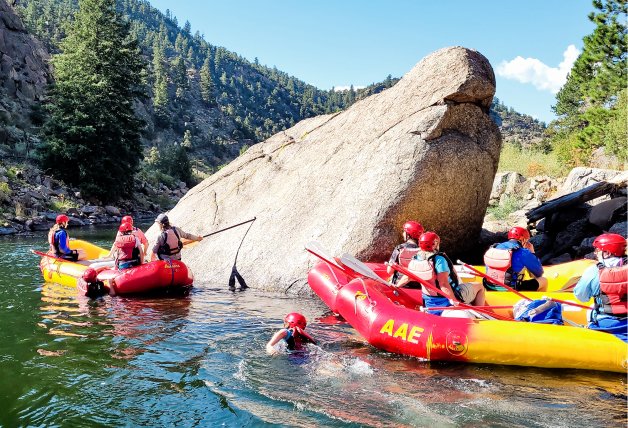 The Many Ways to Play When You Plan
American Adventure Expeditions

February 24, 2015

Blog
Sure, we've got river adventures that are kid friendly and we've got river adventures that are not for the feint of heart, but what else can one do while visiting us in the Arkansas River Valley? Through our adventure partners, we happily guide you to high mountain adventures on 4-wheels, 2-wheels, ziplines and railroads! In fact, we offer half-day river adventures specifically so that we can help you craft the best mountain adventures for you and your crew.
ATV tours will take your higher, faster as they are one of the best and most unique ways to take in Colorado's amazing scenery and rugged landscape. All-Terrain Vehicles give Colorado explorers a unique and exciting way to see some of the most incredible views the state has to offer.
Zip Lining allows you to suspend your fear and become an action hero as you zip along our cables. It's a high-flying thrill as you soar above the canyon floor, some 100-200 feet below.
Our mountain bike tours in Colorado are based out of beautiful Salida (named by Outside Magazine as one of their 'Dream Towns and Adventure Hideouts') and can be customized to suit your desired level of adventure. Families with young children or those without a lot of mountain biking experience will enjoy one of our milder trips that get riders 'into the wild' without getting in over their heads! Experienced mountain bikers will be challenged by rugged singletrack trails that will have your legs begging for mercy. All of our mountain bike tours in Colorado include breathtaking panoramic views and outdoor fun!
For the vacationers who come to relax and take it all in, we have access to some of the greatest Hot Springs naturally set amongst the most striking views in the Rockies. A serene escape from all the high-octane experiences Colorado has to offer, may you always come to find that being at Mt. Princeton Hot Springs is just what you need.
Our Royal Gorge River Trips are not to be missed… unless, of course, you're not up for the rapids. If that's the case, our Royal Gorge Route Railroad riders get to experience the size, scale and magnificence of the Gorge without  breaking a sweat or feeling a splash.
 We've created a variety of Colorado expeditions off-river to suit a wide range of adventure-seekers: we hike, we bike, we ride horseback, we soak, we zipline.
Share:
Next Post