Back to Blog & News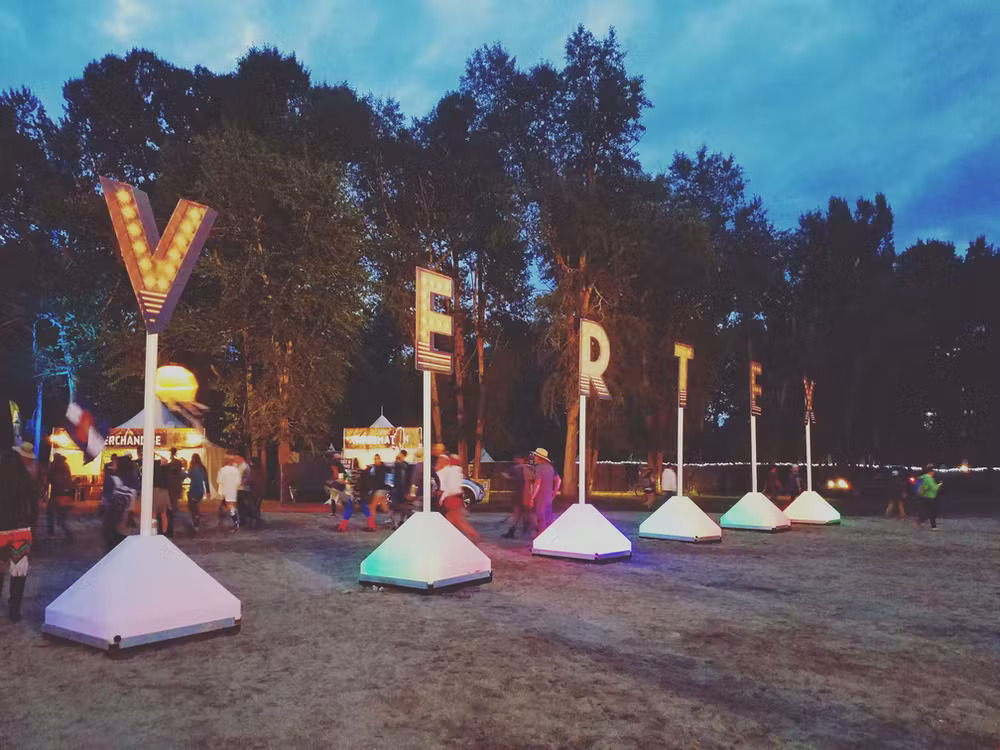 Weekend Recap: Vertex Festival 2016
American Adventure Expeditions

August 8, 2016

Uncategorized
For the first time, the Vertex Festival took place in Buena Vista, CO this past weekend, August 5 – 7. The festival not only showcased headliners such as Gramatik, Alabama Shakes, Odesza and Lettuce, but was complete with interactive art installations, three different stages, morning yoga sessions, a beach party area and a silent disco that raged into the early morning. The best part… the venue is framed by the collegiate peaks, some of Colorado's beautiful 14ers.
After rafting on the Arkansas River in the morning, a bunch of us headed over to the festival grounds, a short 5 minute drive from our outpost, and enjoyed the live music, food, art and brews.
Over the course of this three-day festival it was common to hear, "wow, this is amazing for it's first year!" Though the Vertex Festival was new to the Arkansas River Valley, this is not the first time Madison House and AEG Live has put on a festival. Madison House and AEG are also the creators of Coachella, Electric Forest, Fare Thee Well and many more.
Vertex began on Friday, August 5th with live performances at the Beach Party venue. Each day was accompanied with a "wellness stretch session" at the Beach Party and followed by live music at the three main stages inside the main venue. If you love yoga and music, this is the festival for you.
As you entered the main venue to make your way to the main stages, the path was lined with many interactive art installations including a house with vintage clothing, a tiny house filled with yellow balloons and a metal octagon of sorts that people crawled in and on top of. This was great for kids, but also a lot of fun for us "adults" to experience as well.
For all the space, sky and star lovers out there, Vertex provided an observatory, up the hill from the Princeton Garden main stage. What better place to watch the stars from than Buena Vista, CO sitting at 7,965 feet!
Friday was stacked with performers like Big Wild, Fruition, Alabama Shakes, Jai Wolf and Gramatik on both the Cottonwood Parlor and Princeton Garden stages. The night was filled with lots of laughs, dancing and the phrase, "This is my favorite song!" repeatedly.
Saturday was by far the choice night and was filled with performances from Houndmouth, Duke Dumont, Rufus Du Sol, Lettuce and Odesza. The day began with some clouds and a rain storm that lasted no more than 15-minutes and then it was go time. People began the migration into the festival grounds and the night was off to a great start with music from Robert Delong. Odesza closed out the night with an amazing performance and with help from the CU-Boulder drum line during the song, "Iplayyoulisten."
For those who still wanted to party after the 1:30a.m. shows, there was a silent disco that raged on till about 3a.m. each night. If you have never witnessed a silent disco before, put it on your bucket list. At these "silent discos" everyone wears headphones that light up with different colors and receive live music from a live DJ through the bluetooth feature. While everyone is rocking out with the headphones on, if you take your headphones off, all you can hear is the shuffling of feet and clapping of hands. It's a surreal experience.
If you love to dance, sing, and meet amazing people this is a festival not to miss next summer! Plus, with all that free time during the day you can sneak out and go on a rafting trip and explore the beauty of the Arkansas River Valley! 
Share:
Next Post