Back to Blog & News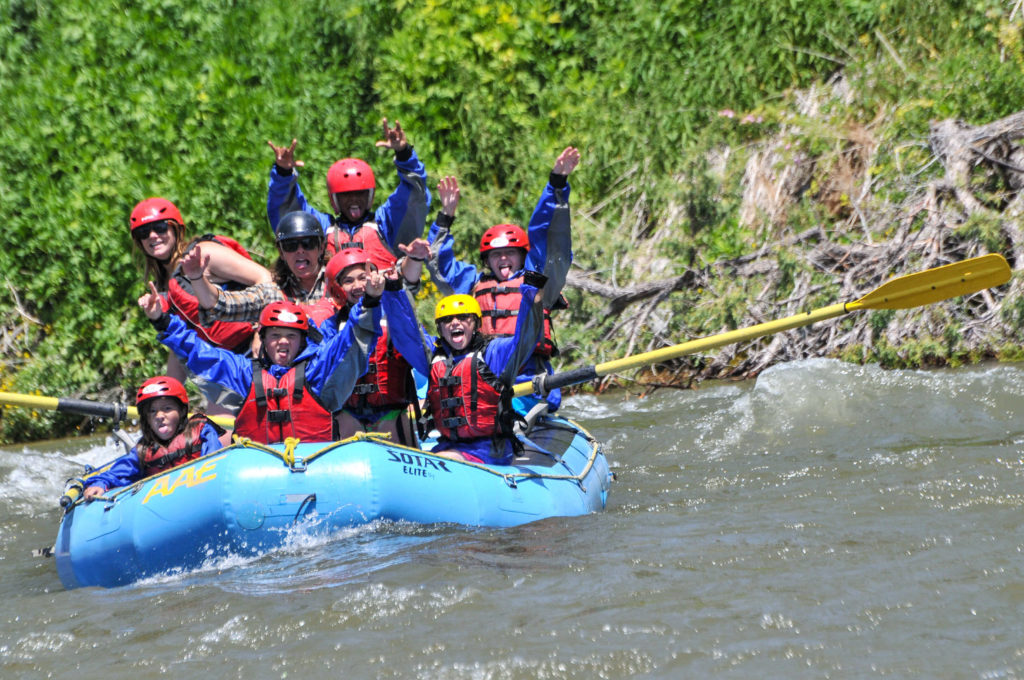 5 Tips for White Water Rafting With Kids
American Adventure Expeditions

July 6, 2017

River Comfort and Safety
When white water rafting is portrayed in videos and photos, you see people braving deep, tumultuous rapids while clinging on to the raft for dear life. In reality, hundreds of miles of smooth-as-butter river water exist, and such idyllic conditions are awesome for beginners and families with little ones.
White water rafting with kids is a perfect opportunity to create lifelong memories, inspire a sense of exploration and curiosity in their growing minds, and introduce youth to beautiful land and waterways—which they can return to and enjoy year after year.
Before you take your kids on their first white water rafting adventure, we've put together a handful of tips to help white water rafting with kids go smoothly:
1) Confirm Age Cap
White water rafting companies offer a variety of guided tours, and each tour has a minimum age—which could be as low as 5, 7, or 12 years old. Call ahead to confirm the age requirements (even if the age limit is listed online) before you book your reservation.
Age regulations are created based off of the variables of a specific section of water, such as the duration of time required to paddle the segment and its level of difficulty.
American Adventure Expeditions offers the Family Float trip, which features beginner-level paddling on Class I & II rapids. The mellow float allows for time to soak up the surrounding views, and the trip duration is one-quarter of a day: a manageable time commitment for an inaugural experience!
2) Understand Rapid Classifications
The class ratings of rivers might seem mysterious and abstract, especially for novice paddlers. The scale is based on a number of factors including how quickly the water is flowing—which is contingent on rainfall and snow runoff—and the size and frequency of boulders.
The ratings can even fluctuate throughout the rafting season and may vary depending on when your family chooses to take a trip.
Most kid-friendly white water rafting trips fall within Class I-II. Here's a general guide to the classification of rapids:
Class I: Easy, slower water with light waves.
Class II: Moderate, medium-quick water with regular waves and space to move through obstacles such as rocks.
Class III: Moderately difficult, quicker sections of water with higher waves. The space between obstacles is more narrow and difficult to maneuver.
Class IV: Difficult, quick flow with powerful rapids and standing waves with advanced paddling required. Sections of rapids need scouting before being run.
Class V: Extremely difficult with long, severe rapids that feature steep drops.
Class VI: Extraordinarily difficult with constant danger—thus, requires the highest level of expert paddling experience.
3) Take a Class
Before you go white water rafting, sign the kids up for a kayak or SUP class! In the course, they can learn paddle techniques, gain confidence, and develop safety skills. For instance, the Colorado Whitewater nonprofit offers a series of classes for youth ages 8 to 17.
4) Check Your Gear
Don't leave the house without double-checking the pack list! Grab all of the necessary gear for the kids and yourself.
You'll need a swimsuit, quick-drying clothes (not cotton or denim), a hat, sunglasses, waterproof or water-resistant sunscreen, and closed-toe water shoes (no flips flops). Don't forget to bring dry clothes and a towel for post-trip comfort.
A few extra items to consider include chums to secure everyone's sunglasses; wool socks because the natural fiber will keep toes and feet warm even when the socks are wet; and an old school, disposable, waterproof camera, which is super fun for the kids to snap photos!
5) Safety First
A personal flotation device (PFD) will be provided for everyone at the start of the trip, and the guide will make sure everyone's PFD fits correctly.
The guide will also go through a safety briefing before the group gets on the water. The talk will include what to do if someone falls out of the raft, what to do if you're the person who falls out of the raft, and how to follow the guide's lead or commands.
These tips will help you and your kids to have an incredibly fun family experience while riding some of the best rapids Colorado has to offer. Ready to book your trip? Contact American Adventure today – we'll help you find the perfect trip for your skill level.
Share:
Next Post