Back to Blog & News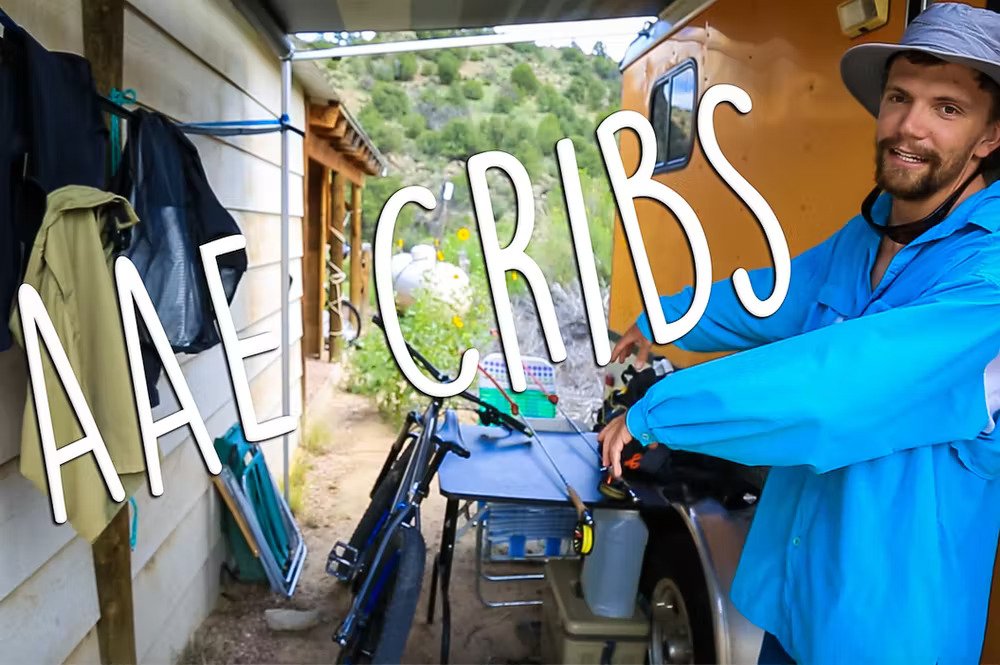 AAE Cribs: Cheapest Housing Along the Arkansas River
American Adventure Expeditions

August 5, 2017

Uncategorized
Have you ever wondered where your raft guide lives all summer?  This is a very common question heard throughout the day at both American Adventure Expeditions outposts due to the seasonality of the job, but more likely because guests catch a glimpse of our magnificent "Tent City."
Tent City
Tent City is a booming population center of about ten to twenty raft guides that has been established in both our North and South outposts. Up in Buena Vista, you can see the cityscape of Tent City from our wetsuit room as you look directly behind the check in office. This community boasts about ten tents of all different sizes, and as the recent hailstorm showed us, varying qualities as well. The guides that live back here are get to hang out with a few picnic tables, fire pit, grill, hammock, and best of all, some of their closest friends. Down in Canon City, Tent City's climate can be more of an influential factor when it comes to housing. The South outpost has a similar number of employees, but with a couple of trailers as well as a few apartments on the property, Tent City doesn't have quite as many tents. To get a little shade, the guides living in tents have rigged up a tarp "awning" that hangs from the backside of the boathouse where this awesome living set up can be found. While it might not be the most glamorous situation, the intangible effect it has on our work environment is an incredible benefit to both our guides and our business in general. While chilling by a fire on a nice night with all your coworkers is amazing for creating friendships, when forced to live through hailstorms, thunderstorms, extreme heat, and even snow are those stressful times where you get even closer to those you are surrounded by.
Getting Creative
While Tent City is home to more than half of our raft guides each summer, many others take advantage of an opportunity to create their own unique housing. With a walk around the Buena Vista outpost, you can see Eric Johnsey's tent resting on the roof of his car with a ladder leading up to it, or an old ambulance/swat vehicle that has been become a mobile home for staff of our Head boatman's bamboo ski pole company, Grass Sticks. Some guides have more experience living out of their car than you may believe is "acceptable," but that too has led to some makeshift wood working for a more efficient summer set up by guides like Tyler Robinson. Both outposts have a few trailers that double as a summer estate as well. A couple are simply a box on wheels while others are much more elaborate. If you end up with Mav for a guide in Canon City, ask about his summer home. He's one of the few employees living on the outpost that have really invested in their living situation and it really seems to have paid off! Maverick's home and a few more of these more creative set ups have been explored in this video below!

Definitely Worth It
What would you do if someone asked you to live in Tent City for an entire summer? You may think this would be a hard pitch to offer potential guides, but frequently this is exactly the kind of environment they seek. Our owner, Mike Kissack, makes an incredible real estate agent for pitching a summer set up like this and every season our guides grow such strong bonds with each other. The true family-like dynamic created at AAE is undoubtedly supported by all employees living in such a close proximity. Everyday is spent either working together or hanging out and both provide countless unforgettable experiences all summer. This is why we have so many returning guides with years of experience that all work so well together. With a dynamic so well maintained, we are able to work together and give our customers an outstanding positive environment throughout their entire AAE experience! Next time you take a whitewater rafting trip ask where your guide lives. It might be a more interesting answer than you think!
Share:
Next Post