Back to Blog & News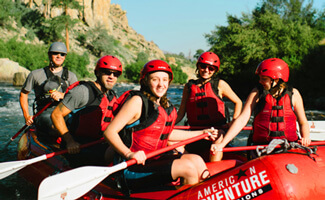 Brown's Canyon Rafting – Planning a Scenic Colorado Rafting Adventure
American Adventure Expeditions

April 1, 2011

Blog, Colorado Rafting Articles
Brown's Canyon is the most popular section of rafting river in all of North America for good reason – it's filled with fun and exciting rapids ranging from Class I – Class IV not to mention some of the most amazing scenery Colorado has to offer. American Adventure Expeditions offers four different rafting trips through Brown's Canyon: The Family Float, Brown's Canyon ½ Day Trip, Brown's Canyon Deluxe Trip, and the Brown's Canyon Full Day Trip. Each trip showcases the beauty and serenity of the might Arkansas River and its surroundings.
The first stretch of river through Brown's Canyon is called The Family Float.  This trip is appropriate for families and first-timers ages 5 and up. It is a great way to experience a Colorado whitewater rafting trip without the wildness of rapids! Although some small 'riffles' are still present and there's a great chance that the rafters will get wet through this section, the real star is the incredible backdrop. This trip is three miles long and lasts only about 2 hours, it seems like the views of the Collegiate Peaks go on for days! Besides the incredible views, there is an abundance of unique Colorado wildlife and vegetation like bighorn sheep, blue herons, bald eagles, red-tailed hawks, as well as yucca, pinon pines, and cholla.
The next three trips offered through Brown's Canyon raft right through the heart of the Canyon. The ½ day trip runs about 10 miles (3 hours), the Deluxe trip runs about 13 miles (4.5 hours) and the Full Day trip runs a whopping 17 miles (5.5 hours) through this beautiful wilderness area. No matter which trip you choose, you'll run some world-famous rapids like 'Zoom Flume', 'The Seven Stairs', and 'Widow Maker'.  And you might even have the opportunity to jump off 'Jump Rock' or pull over for lunch and watch the other boats go by.
Brown's Canyon Rafting Trips
In order to choose the perfect Brown's Canyon rafting trip, it's important to consider the desired level of adventure of your group as well as how much time everyone would like to spend on the water. For people with just a few hours to spare, the Brown's Canyon ½ day trip is the perfect way to see a good portion of Brown's Canyon famous rapids and wilderness. To see the majority of rapids in Brown's Canyon without committing to the full day, the Deluxe trip is ideal. This trip includes two of the most adventurous rapids in Brown's Canyon (Seidell's Suckhole and Twin Falls) both of which can be considered Class IV at certain water levels. It also features a delicious hot lunch served at our Riverside Beer Garden after the trip. For those looking for an all-day Browns Canyon rafting experience, the Full Day trip is where it's at! You get to see every gorgeous mile and fun rapid that Brown's Canyon has to offer as well as enjoy a gourmet riverside lunch served in the canyon by your guides – the ultimate Colorado day!
How To Prepare For Brown's Canyon Rafting
Preparation for all of our Brown's Canyon trips should include an assessment of the weather (if it's an overcast day, bring some extra layers!).  When rafting on any of our trips, it's a good idea to bring sunscreen, sunglasses, quick-drying shorts, and dry clothes for after your Browns Canyon rafting trip. Also, be sure to let us know about any dietary restrictions if you're joining us for a Deluxe or Full Day trip so we can accommodate any special requests appropriately!
Browns Canyon offers a wide variety of rafting adventures with one of the most beautiful backdrops in the country! All four of American Adventure Expeditions Browns Canyon rafting trips include incredible views and whitewater ranging from mild to exciting. With the gorgeous flora and fauna, the highest concentration of 14,000' mountains in the lower 48 states, unique Colorado wildlife and some of the most exciting rapids in the country – there just isn't a better Colorado rafting trip than Brown's Canyon!
Share:
Next Post