Back to Blog & News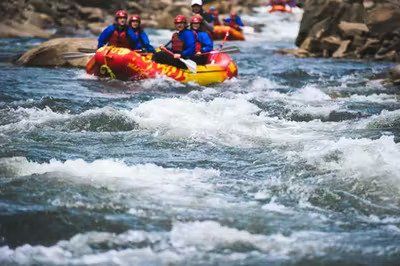 Colorado Rafting Along The Arkansas River
American Adventure Expeditions

April 6, 2011

Blog, Colorado Rafting Articles
The Arkansas River traverses through many states and provides numerous sites and attractions for people to discover.  Rafting in this river is an unforgettable experience that anyone would want to enjoy, and AAE makes Colorado rafting possible.  In the state of Colorado, the Arkansas River passes through many memorable attractions, including The Royal Gorge, Brown's Canyon, The Numbers, and the Bighorn Sheep Canyon.  AAE gives you the chance to see all these sites while rafting through this beautiful river.
One of the biggest attractions along this adventure is rafting through the Royal Gorge section of the Arkansas River.  This entails Colorado whitewater rafting through one of the most exciting and heart-pumping thrill rides one may ever go on.  The scenery combined with the fast paced rapids make Royal Gorge rafting an experience that one will never forget.  This is a must-see for thrill seekers.
It is said that Brown's Canyon rafting has one of the most picturesque views of the mountains in the Arkansas River valley, which is probably why this rafting trip is known to be the most popular around.  The high difficulty of these rapids, combined with perfect scenery, attract people worldwide and leave you with an unforgettable experience.  Brown's Canyon is a site to remember, and AAE make this possible.
For a real adrenaline seeker, The Numbers Rafting is an experience that you need to check off your to-do list.  Tight turns and drop-offs will leave you one the edge of your raft as you paddle through tough rapids, and at the same time, experience a breath taking background.  AAE will help you take on The Numbers Rapids and show you the time of your life.  Make sure to be ready for a wild adventure!
If you are looking for a little bit of everything for the whole family, the Bighorn Sheep Rafting is the perfect experience.  This trip provides a less difficult whitewater rafting adventure and allows you to see gorgeous wildlife along the way.  Along the mountainside, magnificent bighorn sheep can be spotted, giving you and your family the full nature experience.  Bighorn Sheep rafting provides a perfect blend of whitewater fun and wildlife sightings.
The Arkansas River is without a doubt one of the most popular rivers to travel through, and these Colorado rafting sightings are the reason why.  Whether you are looking for the wildest rafting experience around, or simply wanting to take the whole family out for a great time, Colorado rafting is the way to go.  AAE will take you there-and you will never look back!
Share:
Next Post