Back to Blog & News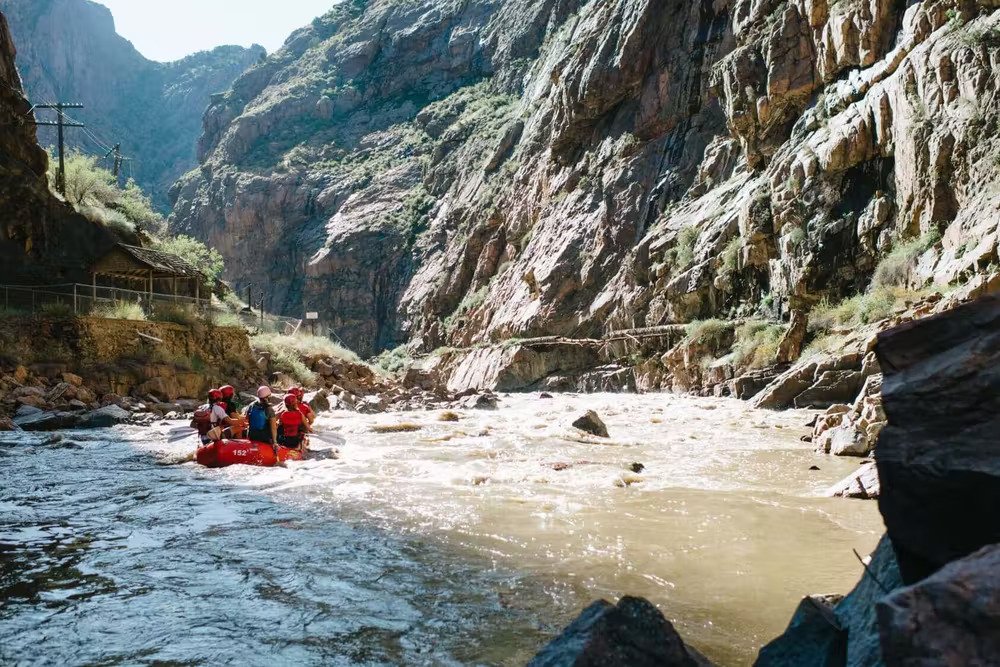 Colorado Rafting Trips – How To Get The Most Out Of The Arkansas River
American Adventure Expeditions

February 25, 2011

Blog, Colorado Rafting Articles
The Arkansas River Valley is considered by many to be a 'hidden gem' of Colorado.  Not only does it boast the highest concentration of 14,000' peaks in the lower 48 states (making it an excellent place for biking, hiking, and fishing) but it also contains some of the most ideal whitewater rafting in Colorado and the U.S.!  The best thing about Colorado rafting trips in the Arkansas River Valley is that they are for every age and ability level.  From our mild 'Family Floats' to our wild 'Class V trips' to our fun 'Combo' trips, there truly is something for everyone.  Read on for more information about our different Colorado rafting trips.
Colorado Family Float Trips
Family Float trips are perfect for families and first-timers that aren't looking for much whitewater adventure.  These trips are appropriate for kids ages 5 and up and for rafters that are looking for a mild, scenic float.  Covering 4 miles of the world-famous Arkansas River, rafters definitely get to see those 14,000' peaks by rafting right under the massive Mt. Princeton (which stands at a whopping 14,197')!  There is also a great chance to see some of our native wildlife like deer, bighorn sheep, and Western Tanagers.  Enjoy the warm sunshine as you head down the cool river.
Colorado Whitewater Rafting Trips
For those looking for a little 'step up' from a family float, we offer a couple of Beginner/Intermediate whitewater rafting trips.  These Colorado rafting trips are perfect for adventurous families and first-timers looking to experience some of the thrills and excitement Mother Nature has to offer.  Both Brown's Canyon rafting trips (depart from our Buena Vista outpost) and Bighorn Sheep Canyon rafting trips (depart from our Cañon City outpost) are great Class II/III sections of whitewater with the perfect combination of amazing scenery and whitewater adventure.
For those with previous rafting experience (or anyone that is in good physical condition and loves the water), try one of our Intermediate/Advanced Trips.  Rafting in the Numbers and Royal Gorge Rafting both offer thrilling and daring whitewater rapids with big drops and huge waves.  Although the scenery through both of these sections is absolutely stunning, you'll probably be too busy paddling to notice!  There is no better way to bond with your adventurous family or friends than by tackling some Class V rapids together.
Colorado Zip Line Adventure Tours
Rafting isn't the only high-adrenaline activity offered in the Arkansas River Valley.  Zip Line/Rafting combo trips are very popular for good reason…after a wet morning on the river, you'll enjoy lunch at our riverside beer garden and then head over to the Zip Line Tour to 'dry out' on one of the 7 exciting zips through beautiful Lost Canyon in Salida, CO!  Choose your rafting trip based on your group member's ages and ability levels.  As for the Zip Line tours, they are appropriate for kids ages 8 and up…fun for the whole group!
The Arkansas River Valley offers an abundance of adventure activities for the faint at heart and for white-knuckle thrill-seekers alike!  Colorado rafting trips for all ages & abilities AND Zip Line tours turn a boring summer break into a fun and exciting one where everyone gets to participate.  Don't have an ordinary vacation or day off work, have an extraordinary one with one of our Colorado rafting trips!
Share:
Next Post