Back to Blog & News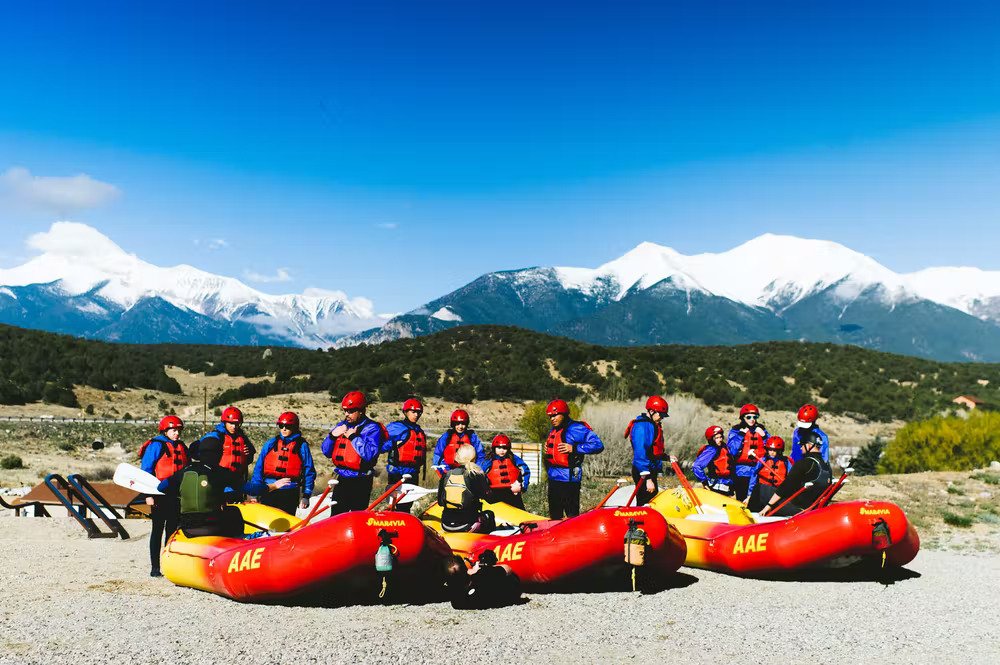 Colorado Rafting – Experience the Beauty of Colorado's Arkansas River
American Adventure Expeditions

January 25, 2011

Blog, Colorado Rafting Articles
As the most popular rafting river in all of North America, The Arkansas River provides everything you could want from a Colorado rafting experience! With the perfect combination of beautiful Colorado scenery and amazing whitewater rapids, it is sure to be the highlight of your summer vacation. Whether you're an experienced rafter or this will be your first attempt at Colorado rafting, we have the perfect trip for you. American Adventure Expeditions offers four different adventures from two convenient Colorado locations, Cañon City and Buena Vista.
Royal Gorge rafting for those who want adventure
Our most popular adventurous rafting trip is through the world-famous Royal Gorge. Royal Gorge rafting never disappoints as the rapids are wild and the scenery is incredible! This section of river boasts tons of Class III, IV, and V rapids making it one of the most exciting stretches of whitewater in the country. American Adventure Expeditions hosts their Royal Gorge rafting guests from a beautiful 8 acre riverside facility right at the mouth of the Gorge…private and exclusive access means less crowds and more time on the river! Rafting the Royal Gorge is appropriate for thrill-seekers ages 14 and up.
Brown's Canyon rafting for those who want excitement
For those still looking for excitement, but for a little less adventure, try one of our Brown's Canyon rafting trips. Brown's Canyon is the most popular section of the Arkansas River for good reason…it's an incredible, remote canyon with awesome Class II and III rapids – great for families and first-timers that are looking for a true whitewater experience! These trips depart from our riverside location at the base of the Collegiate Peaks in Buena Vista, CO. Buena Vista is nestled in the heart of Chaffee County which boasts the highest concentration of 14,000' peaks in the continental United States…these massive mountains are absolutely astonishing! Brown's Canyon rafting is appropriate for adventurous kids and first-timers ages 6 and up.
The Numbers rafting for those who want the ultimate whitewater rafting experience
The wildest section of the Arkansas River is through The Numbers. The Numbers rafting is some of the most technical and exciting in the state! Although this section winds its way through an awesome high alpine setting, you'll probably be too busy paddling to even notice as the whitewater is continuous and relentless! These trips also depart from our picturesque Buena Vista Rafting outpost. The Numbers rafting is appropriate for those seeking a white-knuckle thrill trip ages 16 & up.
Bighorn Sheep Canyon rafting for those who want amazing scenery
The final section of the Arkansas River is called Bighorn Sheep Canyon. Bighorn Sheep Canyon rafting is very comparable to Brown's Canyon rafting…lots of fun whitewater and amazing scenery! This section is named for the numerous herds of bighorn sheep that inhabit this canyon so rafters have a great chance of seeing some of Colorado's most incredible wildlife! Bighorn Sheep Canyon rafting trips depart from our Royal Gorge rafting outpost and are appropriate for adventurous kids ages 6 and up.
Colorado Rafting along the Arkansas River
All of these sections include tons of whitewater, jaw-dropping scenery, and gorgeous wildlife…this all comes standard here on the Arkansas River. However, when you raft with American Adventure Expeditions, you'll also experience our 'inspired hospitality', which will ensure your comfort and enjoyment before, during, and after your Colorado rafting trip. Mark from Nebraska joined us for a Brown's Canyon rafting trip last August and says, "Much like the phone service, the Raft Guides were GREAT!! Very skilled, entertaining, welcoming and you could tell they really love their job." Our goal is to make sure each and every one of our guests leaves with such enthusiasm and that they (along with their families and friends) will continue to raft with us on the Arkansas River for many summers to come!
Share:
Next Post