Back to Blog & News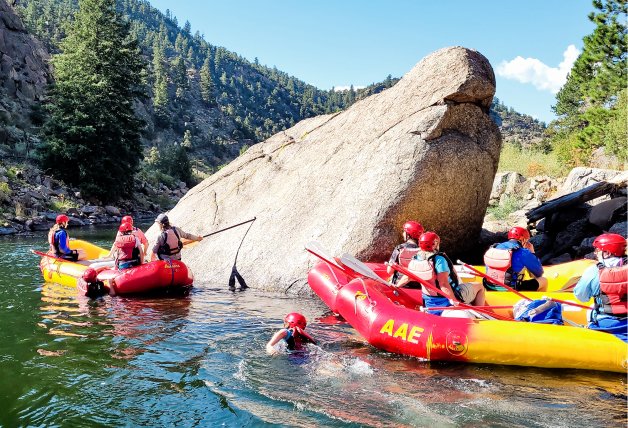 Rafting in Colorado – What to Look For In a Colorado Rafting Guide
American Adventure Expeditions

February 2, 2011

Blog, Colorado Rafting Articles
The Arkansas River boasts some of the most incredible scenery, wildlife, and rapids in the country, but what really makes a Colorado river rafting trip so special is the river guide! Rafting in Colorado is great fun, but unless you're a trained professional, it's not something to do on your own. Since the rapids are technical and water levels change almost every day, it is essential to go rafting with a certified river guide. Your river guide should be qualified, experienced, knowledgeable, and, of course, fun!
Qualifications
To become a certified whitewater rafting guide in the state of Colorado, you must complete at least 50 hours of on-the-water training and hold a valid certificate in CPR and First Aid. At American Adventure Expeditions, we go above and beyond the 'standards' as our Guide Training Program includes over 100 hours of on-the-water training. Most of our guides also greatly exceed the state's minimum qualifications by holding additional medical certifications like Wilderness First Aid and Wilderness First Responder. Many hold certifications in advanced river rescue techniques, and we even have Emergency Medical Technicians and Paramedics on our river staff.
Experience
Although qualifications are essential, it's also very important that rafting guides have lots of on-the-water experience. All guides keep a river log which documents the number of miles they have guided throughout their career. Once a guide becomes a certified rafting guide in the state of Colorado, (s)he can guide Class II and III rafting trips like Brown's Canyon and Bighorn Sheep Canyon. Guides must log a certain number of miles as a Class II and III whitewater guide in order to gain more experience to become a guide for the more advanced sections of the Arkansas River like The Numbers and The Royal Gorge.
Knowledge
More on-the-water experience typically means more on-the-water knowledge. A knowledgeable rafting guide will not just lead and navigate their crew through the rapids. A knowledgeable guide will inform their guests about the geological features of an area…the history, how the river has changed over the years, etc. They'll know the 'secret spots' for the best wildlife viewing. Also, they'll be able to pick out the best lunch spots (where they'll momentarily turn into chefs!) so you can enjoy a delicious meal under the sun and watch the other boats go by!
Personality
The last but also imperative aspect of a great river guide is a fun personality! At the very minimum, you'll be spending a few hours with your guide leaving lots of time for interaction. Every great river guide has a bunch of hilarious rafting stories and a good arsenal of jokes in their 'bag of tricks'. The best rafting guides will have you and your family or friends smiling and laughing all the way down the river!
Share:
Next Post