Back to Blog & News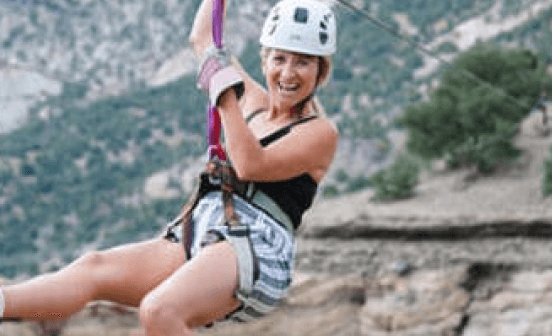 Colorado Ziplining: Flyin' High!
I know that this is going to sound pretty obvious, but personally, I'm thrilled with every opportunity that I have to just raft down the river (unfortunately this happens less than I would like now that I own the company…but I still can't complain).
However, there are some of you out there, that Colorado rafting just isn't enough.  You're always looking for more, whether it's bigger thrills, new adventures, or just something different.  And although we run multiple river sections, and can suggest certain times of the summer when the water will be the highest (by the way, for you high water junkies June 19th is already booked out in the Gorge) there does come a time where we run out of 'new adventures' for you to try…or do we?
Always striving to please, we're constantly searching high and low to find the next big thing in Colorado whitewater rafting.  What we've come up with has run the gamut, from smaller rafts for a more thrilling ride to an invention called the Hyro Bronc (which leaves you feeling like a soaked gerbil). The funny thing is, that through all of this research we've discovered that the next big thing isn't even on the river, it's over our heads (literally).  It's Ziplining!
Beginning this year we are now offering a Float and Fly package with our good friends over at Captain Zipline.  This package includes a morning 1/2 day rafting adventure through any of the four sections that we raft (so you can make it as wild or mild as you want) and concludes with an afternoon of high flying adventure, ziplining through the Lost Canyon of Salida, CO.  Hold on tight as you zip across over 2,000 ft on 6 different cables, and take in the amazing scenery from 65 ft in the air as the cable sings and you soar!
So for those of you looking for more, search no further…just give us a call and we'll show you this valley like you've never seen it before.  From the river and the sky!
Colorado Ziplining: One Happy Zipper!
Share:
Next Post