Back to Blog & News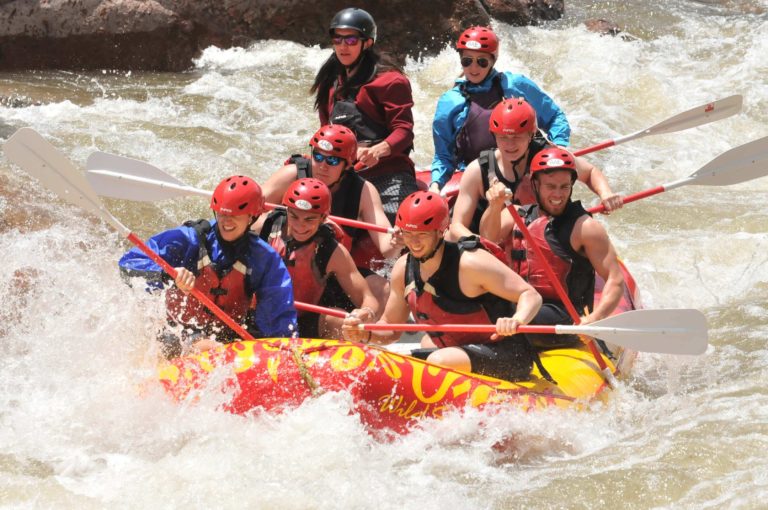 Here it comes!
American Adventure Expeditions

May 24, 2010

Blog, Staff Updates
One of the hardest things about writing this newsletter each month is deciding on a topic.  The difficulty usually lies in having too much, not too little, to write about.  Whether it's things going on at AAE, recent travel adventures, or updates on your favorite guides, each month I have to decide what will be most relevant and interesting to you, the reader.  However, every May, it's kind of a no-brainer for me…I write about high water!
During high-water raft guides get that same feeling that we used to have at Christmas as children.  We're filled with anticipation, excitement, and sheer bliss, just waiting for that time when Mother Nature melts all of that beautiful Colorado snow which fills our rivers and becomes world-class whitewater.
Although pinpointing the actual 'peak day' (when the water level will be the highest) is not an exact science, I will share with you some interesting facts about what's been happening this last week and let you be the judge…
1. Since May 19th, the cfs (cubic feet per second) in Brown's Canyon has gone from 400 to just under 1,000, more than doubling in volume. (Click here for a link to water levels and scroll down until you see the Arkansas Headwaters section.)
2.  The weather forecast for Memorial Day weekend doesn't have a day less than 80 degrees at our Royal Gorge outpost. (Warm weather = more whitewater!)
3.  Our phones have been ringing off the hook the last two days with every other caller inquiring about water levels…just waiting to pull the trigger on making their reservation.
So if you consider yourself a true whitewater enthusiast and this doesn't get you fired up, maybe our Memorial Day special will!  Head back to the newsletter to check out our Screamin' Deal…valid this weekend only!
Cheers!
Mike Kissack
Share:
Next Post