Back to Blog & News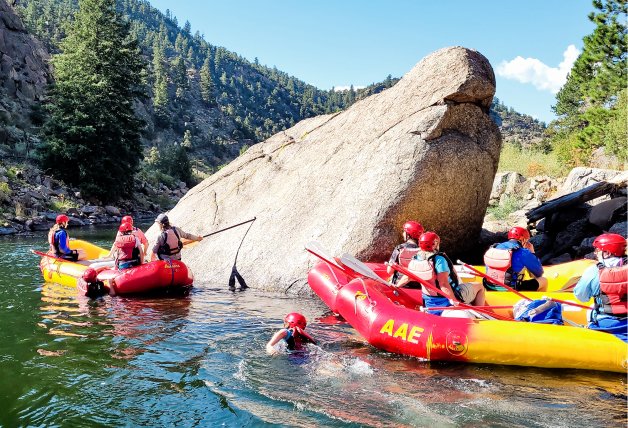 Huge Group For Rafting? No Problem!
American Adventure Expeditions

August 17, 2017

Uncategorized
Quick Info!
Here at American Adventure Expeditions, we pride ourselves on customer service no matter how small or large of a group we encounter.  We've worked hard to provide a convenient and enjoyable experience for our larger reservations.  Our discounts of 10% off rafting trips begins with groups of 10 or more and we offer 15% off for groups of 15 or more.  Wetsuits, splash jackets, and water shoes are distributed to all members of the party  for free as well!  Many of our largest groups come from Destination Services (DSC), corporate retreats, fraternities, summer camps, local schools and sometimes a bunch of close friends like our visit from Journey Racing earlier this year.  For a few of these we have offered custom trip times in order to tailor our services to their needs!
Wonder What the Experience Will Be Like?
We wanted to give you a look at what an actual group experience is like at AAE.  Up at our Buena Vista location, we were lucky enough to have the cast and crew of the Disney play Frozen participate in an awesome day on the river last week.  Currently, the show is being performed in Denver, but this group will be taking their talents to Broadway very soon!  Check out this video of their experience rafting through Brown's Canyon!
Interested in Booking?
Online booking for reservations can be easily found on our website, but it might be more beneficial to call for the biggest groups.  This will help smooth out any details like dietary needs, ideal departure times, and any other questions you may have. We are very flexible and would love to have you!  Just remember let your whole party know all the necessary details.  It's relatively common for guests to show up at the wrong outpost or call the day before with many questions that may be answered in our confirmation email.  Thanks for reading and we hope you consider AAE for any rafting trips, even if it's just you!
Share:
Next Post