Back to Blog & News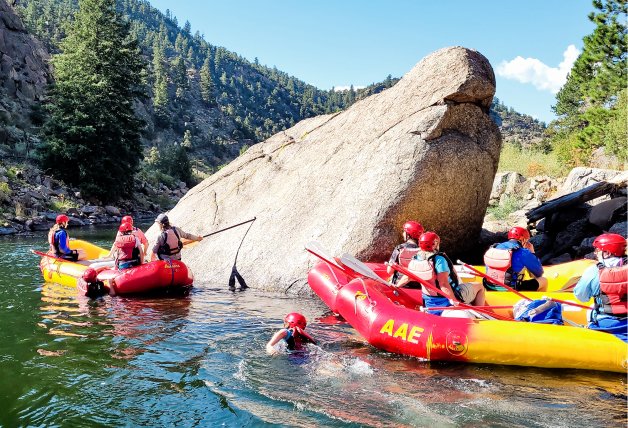 Overnight Colorado Rafting Trips With AAE!
American Adventure Expeditions

August 5, 2013

Blog, Find A Trip
The only thing better than a Colorado rafting trip on the Arkansas River is sleeping underneath the stars in 'rustic comfort' and doing it all again the next day! After an exhilarating day on the water, relax and share the day's adventures around the campfire as your guides take care of everything…from preparing the meals to providing the evening's entertainment, they'll do more than just get you down the river! With years of experience in planning overnight Colorado rafting trips, we've come up with the perfect itinerary that's sure to exceed any expectations. The combination of amazing rapids and breathtaking scenery, along with our top-of-the-line camping equipment and gourmet meals will have you begging for just one more day. Leave the planning to us and just get ready for a true rafting in Colorado experience!
WHAT'S INCLUDED:
All meals (Day 1 Riverside Snack, Day 1 Dinner, Day 2 breakfast, Day 2 lunch)
Use of AAE's camping equipment (tent, sleeping bag, sleeping pad) and facilities (restrooms, showers, riverside pavilions, campfire)
Wetsuit, river shoes, and splash jacket for all rafting trips
ITINERARY:
Day 1
11:15 – Arrive at our Cañon City outpost to check-in (41746 W. US Hwy. 50 Canon City, CO 81212)
12:00 – Depart on 17 mile rafting trip through scenic Bighorn Sheep Canyon (Class II/III Beginner to Intermediate)
05:30 – Raft back to our 8 acre riverside facility and get ready to relax! Take a shower, check out your campsite, play horseshoes, etc.
06:00 – Hors d'oeuvres served at our riverside pavilion
07:00 – Surf and Turf Dinner (vegetarian options always available upon request)
09:00 – Relax by the campfire and enjoy some S'mores
Day 2
7:15 – Coffee is ready!
7:30 – A delicious and hearty Colorado Cowboy-style breakfast will be served
8:30 – Check-in for your Royal Gorge Rafting Adventure
11:30 – Return to AAE's Canon City Outpost for a gourmet picnic-style farewell lunch!
Don't miss out on American Adventure's awesome overnight Colorado rafting trips!
Share:
Next Post