Back to Blog & News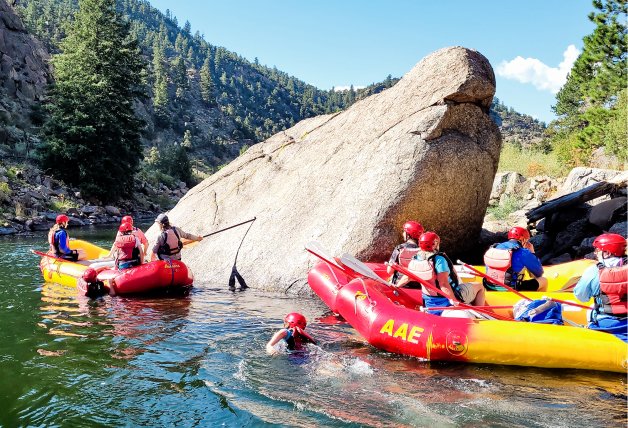 Overnight Rafting Adventures
American Adventure Expeditions

April 2, 2014

Blog, Find A Trip
To get the full experience of a Colorado summer, we have created great overnight rafting trips for those of you who want to truly enjoy adventures with American Adventure Expeditions. Not only do you get to maximize your playtime, but you will also get to spend the night under the stars, in the outdoorsy comfort of tents, sleeping bags and gourmet food. Your river guide seconds as chef and party planner and will prepare all of the meals and fun so that you can hang out and relax.
Need your snuggie? Don't sweat it; we will transport all of your bare essentials – even a snuggie, along with all of our camping gear, cooking supplies and other accoutrement, on a second raft. Worried that your snuggie will get wet on the rapids? Don't be; we'll lend you a bag designed specifically to keep goods dry. Breakfast, lunch and dinner are provided, along with top-of-the-line camping gear. Unlike a backpacking trip, weight is not an issue, so we bring the goods. All of them.
You'll start Day 1 at one of our two Arkansas River outposts, where we'll outfit you in the best gear around. We'll pack all of your goods up along with the essentials to comfy camping in one raft and you in another. Then, you'll spend the day on the river, blasting through stunning scenery and thrilling whitewater. In the evening, relishing the downtime in the open air as your expert guides prepare a river-style gourmet meal at camp and get ready for Day 2. Wake from serene slumber in the outdoors, drink coffee, nourish with a hearty meal and go, go, go!
Our guides will make you feel comfortable and competent during your adventure, from river running to meal-time. These overnight rafting trips in Colorado are some of their favorites to lead since they love spending time on the river and want to share that passion with you. Overnight trips really are the best way to combine convenience, whitewater, adventure and tranquility. We're pumped to be able to give you the chance to fully immerse yourself in the outdoors with an overnight river trip; they are unique with American Adventure Expeditions as we offer an incredible opportunity to unplug and reconnect with your family or friends.
Our overnight trips include wet suits, splash gear, pfd, helmets, and transportation to and from the river, along with tents, sleeping pads and all meals. Bring your sleeping bag and you're set!
Share:
Next Post