Back to Blog & News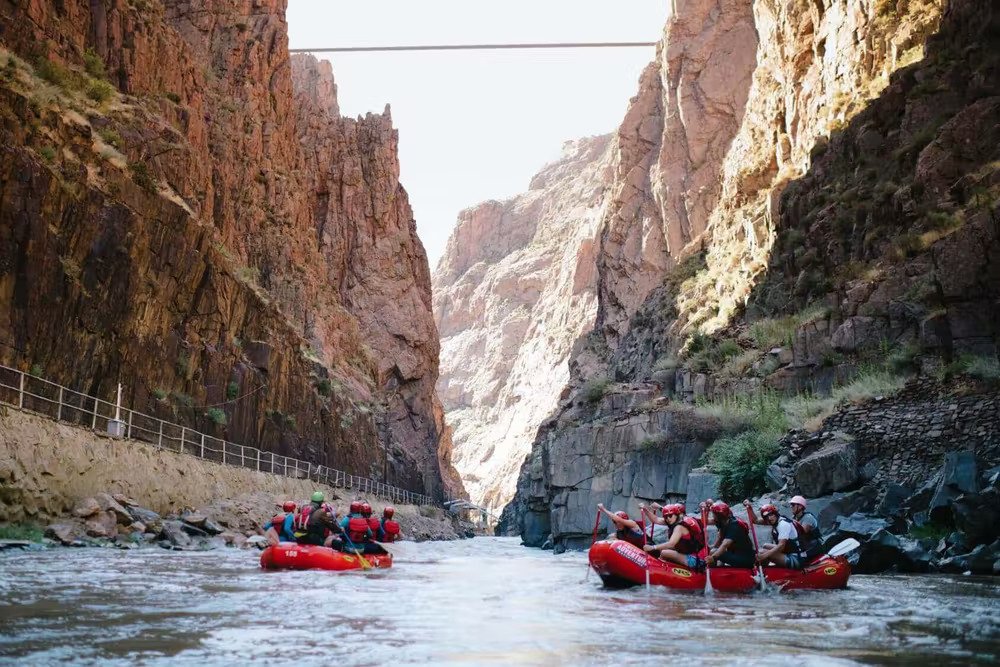 4 Awesome Activities You Can Do at the Royal Gorge This Spring
Jagged granite cliffs. A rushing river. A sheer drop so deep it'll make your head spin. We're talking about the Royal Gorge, one of Colorado's most dazzling and popular attractions. A trip to the Royal Gorge is a must when you're in Colorado, and you'll find tons of adrenaline-filled activities to fill your time there. Here are some of our favorite awesome Royal Gorge activities you can (figuratively) dive into this spring.
Royal Gorge Bridge and Park
Planning a visit to the Royal Gorge Bridge and Park is a no-brainer, as it gives you a ton of Royal Gorge activities in a single location. Start with a walk across the 1,200-foot bridge as you enjoy spectacular views of the Arkansas River nearly 1,000 feet below.
Amp up the adrenaline levels at the park, where you can zipline above the river or hop on the Royal Rush Skycoaster for a 50-mph freefall that dangles you over the canyon rim. Take a breather with a relaxing aerial gondola ride from one side of the canyon to the other.
Royal Gorge Train Ride
Hop aboard a train on the Royal Gorge Route Railroad. After being ignored for years, a local railroader revamped the route with a handful of restored mid-century rail cars you can ride today.
The route snakes along the base of the canyon, right next to the Arkansas River. Food, drinks, a glass-domed railcar, and even murder mystery adventures can be part of the ride. You can also just kick back to take in breathtaking, up-close views of the gorge's sheer granite walls. Board the train at the Santa Fe Depot in Cañon City.
Royal Gorge Rafting Trip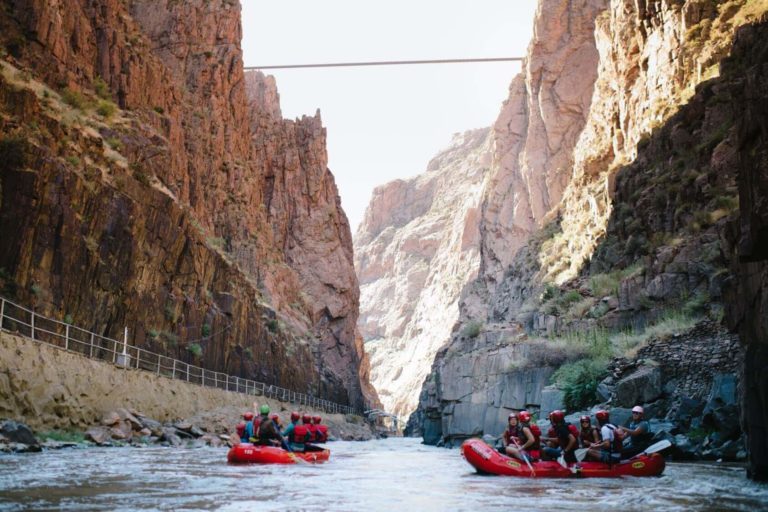 Billed as one of the top 10 rafting runs in the entire nation, the Royal Gorge is a whitewater rafter's dream. Choose from a half-day rafting trip or a full day rafting adventure on the wild waters of the Arkansas River, where you'll soak in the stunning views of the gorge from its very depths.
Raging rapids mingle with breathtaking views to make whitewater rafting the Royal Gorge another must-see on your list. You can even combine the rafting adventure with an ATV trek or horseback riding for even more thrills. Heck, we'd do this stuff every day if we could. And sometimes we do!
Royal Gorge Skydiving
Head to Fremont County Airport, and you can get the ultimate rush with a skydiving adventure. Skydiving serves up memorable views of the Royal Gorge, along with Pikes Peak and the Sangre de Cristo mountain range. This option is definitely for the super thrill seekers, especially since you start with a freefall that lasts more than 30 seconds.
With these Royal Gorge activities on your springtime agenda, you'll be kicking off warmer weather with the coolest adventures this Colorado attraction has to offer. Contact American Adventure Expeditions with any questions or for more info on the awesome adventures waiting for you at Royal Gorge.
Share:
Next Post