Back to Blog & News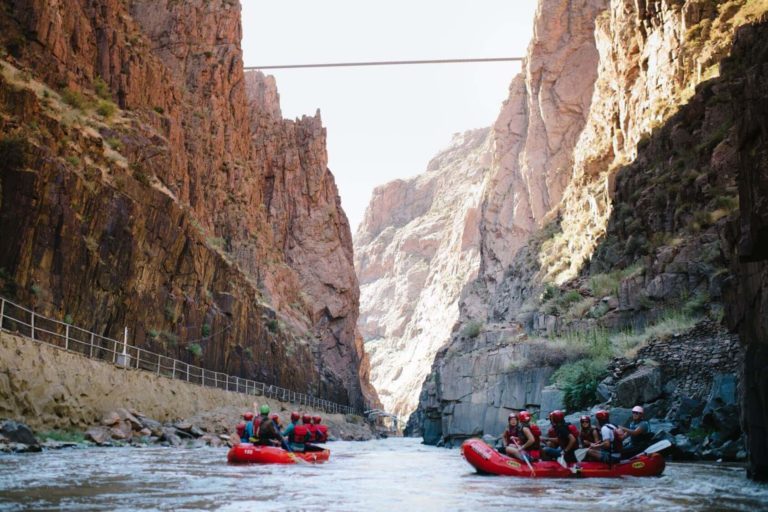 The Royal Gorge Is Open For Rafting
The Royal Gorge is now open for rafting! After weeks of being closed due to the fire, we are ecstatic to say we can once again raft the mighty gorge. The Gorge is flowing at an excellent water level right now for great adventure and perfect whitewater excitement.
Close your eyes and picture yourself rafting on the Arkansas River through the breathtaking Rocky Mountains. You're at the bottom of the amazing Royal Gorge staring up at majestic granite walls that rise on both sides over 1,000 feet in the air. Now imagine you're navigating your way through the Arkansas River's roller coaster rapids while rafting the Royal Gorge with waves so big and drops so fast that everyone is soaked from head to toe, and all your cheeks hurt from smiling so much. Does this sound like the adventure you've been looking for? If so then the Royal Gorge rafting adventure is for you.
The Royal Gorge is Colorado's white water rafting at it's best and is consistently considered one of the top 10 whitewater rafting runs in the country! With towering thousand foot canyon walls, and unforgettable rapids, this trip is guaranteed to thrill even the most experienced whitewater rafting enthusiasts. Expect big drops and crashing waves while Arkansas River rafting through rapids such as Sunshine Falls, Boat Eater, and Wall Slammer. In addition to the amazing whitewater, you'll float under the world's highest suspension bridge at over 1,100 feet tall! These Royal Gorge rafting trips leave from our Royal Gorge office, just west of Cañon City.
The Royal Gorge is extremely accessible for American Adventure: we are the only company with an outpost on the water; all we have to do is walk down to the river and hop in the boats (no boring bus ride). With an outpost directly on the Arkansas River our guests are able to experience Royal Gorge rafting like no one else. If you choose to do a morning or half day rafting trip with us you'll get into the Royal Gorge ahead of all the other companies, and you will truly have the Royal Gorge all to yourself. If you choose the full day trip not only will you enjoy a private river side lunch at one of our exclusive pavilions, but you will also benefit from the added convenience of being able to access your car in the middle of the trip to add layers or remove layers of clothing; let your dog out, etc. Join us soon for an adventure down the Royal Gorge – we hope to see you on the water!
Share:
Next Post