Back to Blog & News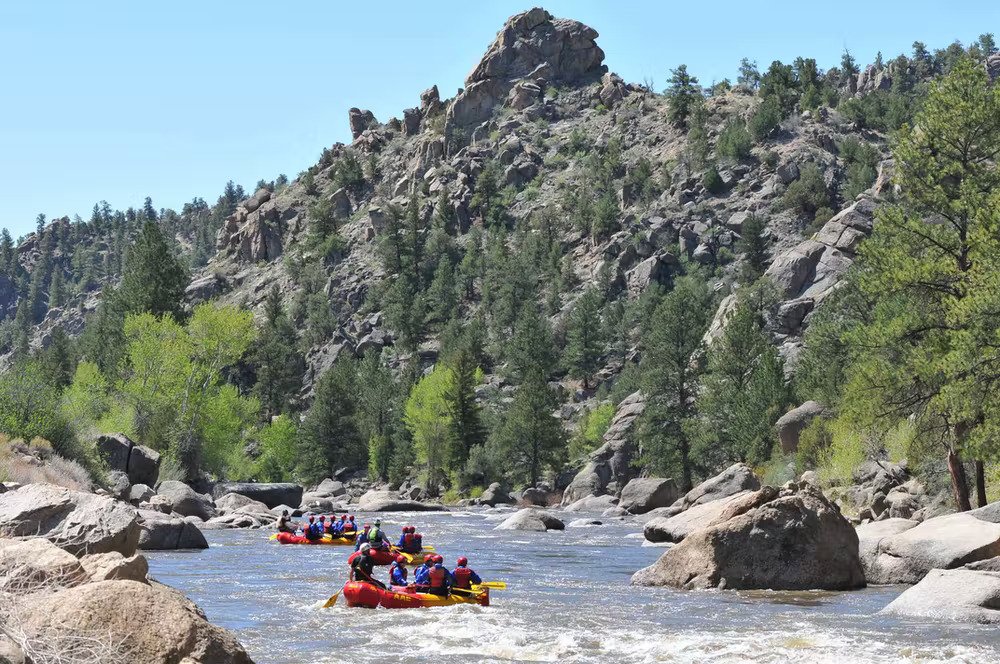 What's the Best Canyon for Rafting on the Arkansas River?
American Adventure Expeditions

July 27, 2017

Uncategorized
Browns Canyon in Buena Vista and Bighorn Sheep Canyon outside Canon City are definitely two of the most popular and stunning whitewater rafting locations on Colorado's Arkansas River. Buena Vista is also home to The Numbers, another awesome rafting experience, but because how technical and intense the section is, many people choose to take an adventure through Browns Canyon. Similarly, Bighorn Sheep Canyon is the section of river above The Royal Gorge and is also the easier of the two options. All four trips have such unique qualities that make them awesome, so no matter what you'll have an amazing time! Here's quick comparison of the two Canyons that consist mostly of Class III rapids rather that the Class IV rapids of The Royal Gorge and The Numbers. You can check out a comparison of the Class IV trips here!

Browns Canyon
A unbelievable view of the Collegiate Peaks can be see from any point in Buena Vista. The town is home to so many kayaking, mountain biking, rafting and outdoor enthusiasts because of the amazing local environment, especially Colorado's newest national monument, Browns Canyon. This canyon is absolutely perfect for everyone regardless of prior experience. Our minimum age for this adventure is only six years old, making it a very common choice for families! It is the ideal mix of sustained calm stretches with a variety of big exciting rapids. You'll be blown away by the natural beauty of a canyon made almost entirely of massive boulders that is also home to golden eagles, peregrine falcons, elk and much more. Make sure you don't miss the photographer that normally hangs out around the most famous rapid in the area, Zume Flume! The only way to travel through the whole Canyon is on the river. Our company offers three different trips through the canyon so we provide awesome opportunities to see as much as you desire!

Bighorn Sheep Canyon
Looking for super fun hits with a great chance of seeing wildlife? If so, check out Bighorn Sheep Canyon! Yes, it gets its name from the numerous herds of bighorn sheep roaming around the walls of this mighty canyon so be on the lookout! The rapids you'll experience are mostly classified Class III, out of six classes for anyone curious. In general, this trip is a fairly even blend of relatively gentle slow water with awesome moments of true excitement in rapids like Spikebuck, Shark's Tooth and Kamikaze. This trip is excellent for anyone age 6 and older regardless of whether you have rafted before or not!

Have You Made Your Decision?
Hopefully the two videos above showed you exactly what a trip with American Adventure Expeditions is like through these two amazing sections of the Arkansas. Here are few last details we wanted to mention. Our northern outpost in Buena Vista where the Browns Canyon trip begins is about two hours from Denver and an hour and a half from Colorado Springs. The trip has multiple departure times daily, an age limit of six, and multiple packages for the day. It contains Class II and Class III rapids with a relaxing calm stretch before a series of rapids with some down time in between as well. Bighorn Sheep Canyon trips start at our southern outpost in Canon City and ends right at our beach at the entrance of The Royal Gorge, which means one less bus trip than any other company in the area! This location is about an hour from Colorado Springs and two hours from Denver. It also has multiple departure times, an age limit of six and multiple packages for the day. You'll hop right into Class II and Class III with plenty of chances to see wildlife, especially during the relaxing final stretch. Lastly, all our trips can be combined with other adventures like ziplining, ATV tours, horseback riding, hot springs and more! Thanks for reading and we hope we see you at American Adventure Expeditions!
Share:
Next Post