Back to Blog & News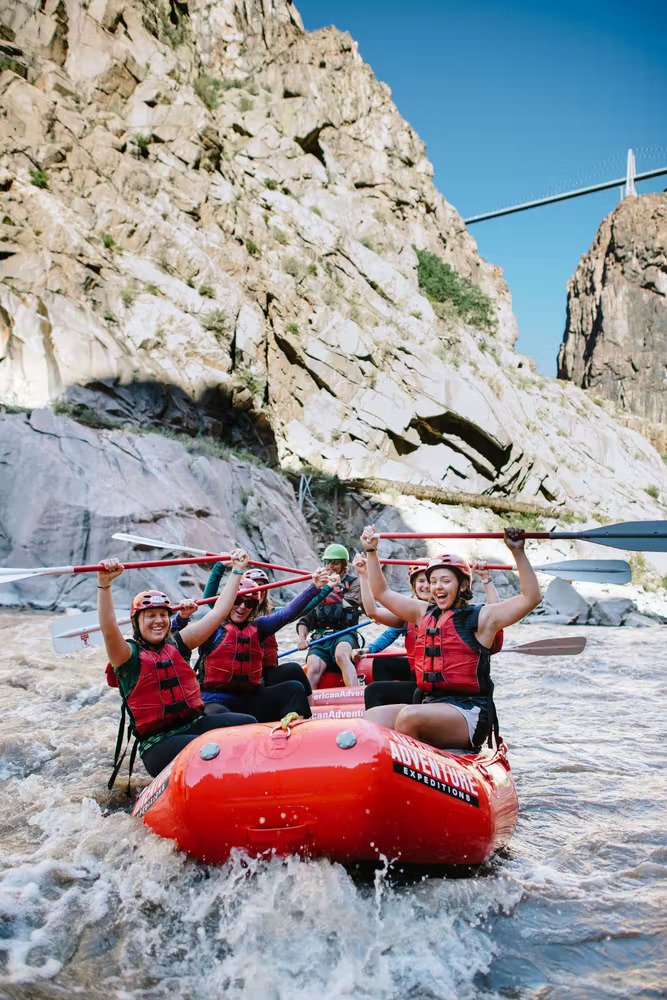 Are You Up for the Challenge? Rafting The Royal Gorge versus The Numbers!
American Adventure Expeditions

July 22, 2017

Uncategorized
Two of the most popular and more exhilarating sections of the Arkansas River are The Numbers and The Royal Gorge.  Both sections are considered some of the top whitewater rapids in the entire country and it's definitely for a great reason!  The Royal Gorge route sends you through a crack in a mountain that is three million years in the making, which is truly an incredible experience by itself.  The Numbers is surrounded by many of the tallest mountains in all of Colorado, just don't let the scenery distract you or this very technical route could trip you up!  We quickly wanted to point out that these two stretches of the Arkansas are located far apart from each other so keep that in mind!  Now let's get into the differences between the two to help you decide which, if not both, of these adventures would be perfect for you!
The Royal Gorge
It's pretty amazing to think that a trickling stream running down from the peaks of the Rocky Mountains eventually carved out this 10 mile natural wonder.  The width of The Royal Gorge decreases to about 40 feet across at one point while boasting canyon walls over 1000 feet high made of red granite.  These enormous walls and relatively short distance were perfect conditions for the tallest suspension bridge in the United States to be built across the canyon in 1929.  You can still take a walk across it, just don't look down!  Due to the narrowing of the river, the flow of the water increases and excitement intensifies!  This trip will take you through Class IV rapids with the potential for a few Class III or Class V rapids as well.  A run through the gorge is undoubtedly one of the most difficult parts of the Arkansas River that is commercially run.  A few of the thrilling rapids you can expect to encounter are called Sledgehammer, Boat Eater and Sunshine Falls if you want to do a looking research to see if will be comfortable with an expeditions like this!  
Now it's time for the specific information in regards to actually booking an unbelievable rafting experience like this.  American Adventure Expeditions, as well as almost all other businesses rafting the Arkansas, require all guests to be at least 14 years old.  There is a risk you might swim in the river, so we just want to make sure everyone has the ability to swim well enough to ensure an increased level of safety for all guests while rafting.  The trip begins at our outpost located a bit west of Canon City where we can launch right from our own private beach at the gorge entrance.  You don't have to worry, we have an awesome bus driver to keep you entertained on the short ride back!  Our Canon City outpost is located about an hour from Colorado Springs, two hours from Denver, and an hour from our North outpost in Buena Vista.  Our check in time starts 45 minutes before the tour begins, so if you want to discuss The Royal Gorge with any of our employees, they will be very knowledgable and helpful.  A trip through Bighorn Sheep Canyon also departs from our southern outpost.  It is less challenging and more family friendly so don't be afraid to come down before any commitment!  If you want a plethora of activities to do well beyond rafting, Canon City is the place for you.  We offer many activities to combine our rafting trips with or discounts on other adventures, including an overnight camping and rafting experience, just click this to see!
The Numbers
For a much different, but just as adrenaline filled feat, check out our Buena Vista outpost north of Canon City.  This section of the river is also relatively narrow, but this time there are tougher obstacles to avoid.  The abundance of rocks and fast succession of rapids makes this route one to be prepared for.  We require a minimum age of 16 for The Numbers, especially because guests will be dealing with Class IV and Class V rapids.  The mountains and wildlife around Buena Vista are truly astonishing so try to avoid getting distracted as you hit one of the many huge drops!  The water levels up north are normally a bit lower than near The Royal Gorge, but the technical aspect of The Numbers makes it that much more fun and it will concentrate your focus like you've never felt before.  Each of the rapids has a number associated with it, so search up some details on rapids Four or Five if you really want to see what you are getting into!  
Our Buena Vista outpost is located about two hours from Denver and 90 minutes from Colorado Springs.  It also offers a less difficult trip that travels through the national monument, Browns Canyon, as well as a very relaxing family float.  This is such a perfect idea for any family or group of friends looking for a memory that will last a lifetime while seeking some breathing taking views of the entire geographic region.  To wrap things up, we wanted to highlight the fact we provide unmatched customer service, top of the line equipment and safety gear, gourmet lunches, professional photographs for customers on all trips, countless other adventures and packages, and so much more!  We appreciate you taking the time to read this and everything you need to know about American Adventure Expeditions can be found here!
Share:
Next Post